Adobe updates Creative Cloud apps
Adobe has made a large scale update to Creative Cloud, which the company says is its largest set of updates since Adobe's Max conference back in November 2019.
New features range from improvements to Adobe's Sensei AI machine learning, performance improvements to reduce steps and increase productivity and better communication between Lightroom for iPad and Lightroom on desktop.
Photoshop
The main update here is Select Subject, which has been improved with a set of additional algorithms to improve masking and subject selection - with particular attention paid to the bane of any graphic designer's life - hair. There's more on how this works on the Adobe website.
The other addition is welcome, although a little underwhelming in comparison: there's now auto-activation for Adobe Fonts when you open a Photoshop document with fonts you don't already have installed.
Where it gets interesting is the inclusion of AI, and a new ability for it to recognise the font in a photograph. In use, the algorithm is capable of determining first that the pixels in the image are text, before identifying the font type, and then matching it against existing fonts in Adobe Fonts - pretty cool.
Lightroom
Lightroom sees some new updates too, with the most significant the new Local Hue controls. These allow for local adjustments to hue (useful for subjects like skin tones) without affecting the rest of an image.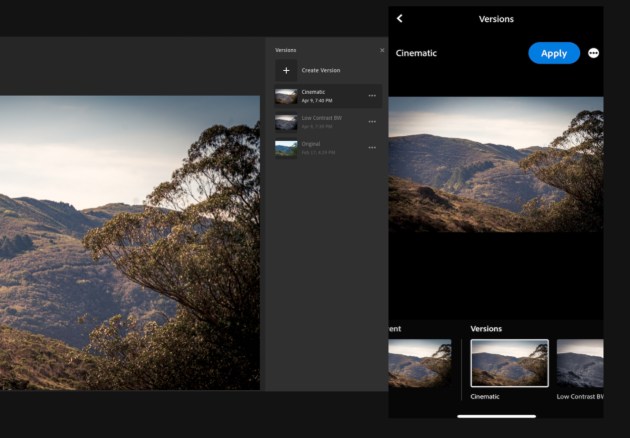 There's also a new 'Versions' feature that lets you try different editing approaches non destructively and allowing for easy comparison of different editing techniques.
iPad integration has also seen a jump in useability, with it now possible to send an image from Lightroom to Photoshop so you can edit it, with all the tools in Photoshop (for mobile) available to use when editing with Lightroom.
Adobe Camera Raw (ACR)
Adobe Camera Raw (ACR) also sees some big changes, and now more closely resembles Lightroom in layout. Essentially this means the sliders now look and feel more like those on Lightroom, and the Curves feature is simpler and easier to use. Combine this with Crop Tool improvements, and the ability to shuffle the layout of controls, and it appears that ACR has finally received some love from Adobe. 
You can see a video hosted by Adobe Evangelist Terry White below which covers the major Photography related updates. There's also a slew of updates to a number of other Adobe products too, including Premiere Rush, Fresco, Photoshop Camera and illustrator. You can find more details on these here.