Adobe rolls out Lightroom updates
Adobe has released new updates for Lightroom, Lightroom Mobile and Lightroom Classic. 
The desktop (version 4.2) and mobile (version 6.2) versions see the bulk of the new features, including a personalised feed on the desktop version, and support for Apple ProRaw on both desktop and mobile. Meanwhile, the updates to Lightroom Classic (version 10.2), are a little light - and include tethered shooting for Nikon users along with performance updates, although these are seemingly limited to Mac users for now. 
The addition of Apple ProRaw to Lightroom on the desktop version and especially Mobile will be welcome to certain smartphone shooters - the format is unique to iPhone 12 Pro and iPhone 12 Pro Max devices running iOS 14.3 or later, and promises more control over editing when compared to RAW or JPEG. It will simply upload like any other file type to LR.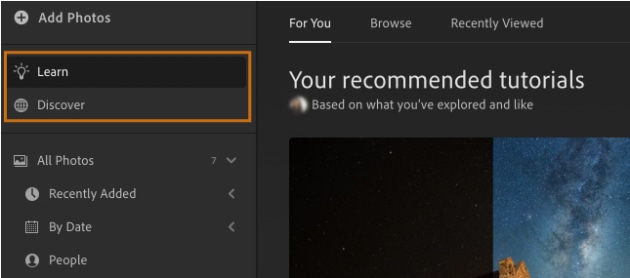 Exclusive to Lightroom desktop, at least for now, is a new personalised feed. This can be configured via the 'For you' tab in the 'Learn' and 'Discover' sections. From here, a number of tutorials and AI assisted guides can be watched and curated. For more information about this feature, click here.

As mentioned, the updates to Lightroom Classic (version 10.2) are largely related to performance. With the filmstrip, using the Library Loupe, Develop and Compare View features all offering a smooter experience.
According to DPReview, on both MacOS and Windows, common batch editing functions like Copy+Paste, Sync Settings, Quick Develop and Auto-Sync, are said to be noticeably faster in the latest version.
For Nikon users, the latest version of Lightroom Classic includes a beta version of Tethered Live View for Nikon. It's not currently compatible with Nikon Z cameras, but certain Nikon DSLR cameras will work with it. As it's currently in Beta mode, users are encouraged to contact Adobe with any feedback.
Finally it wouldn't be an update to Lightroom without support for the latest cameras on the market, with the full lists of the now compatible models available here: Supported camera models and supported lens models. Noticeable inclusions are the Sony Alpha 1, Fujifilm GFX 100S and Tamron's recent 17-70mm f/2.8 Di III-A VC RXD lens.
The latest updates are available to download now. On desktop, new updates can be downloaded via the Creative Cloud app, while your smartphone should update LR Mobile automatically.