3 Legged Thing updates Punks tripods
British camera accessory manufacturer 3 Legged Thing has announced an update to its Punks range of tripods. 
The new Corey 2.0, Travis 2.0, Billy 2.0, and Brian 2.0 gain a host of new features over their now five-year-old first generation versions, while the Punks' Patti tripod remains in range as is.
Each of the new PUNKS 2.0 tripods has three detachable legs that enable the user to reconfigure their tripod into a monopod and/or boom arm. Additionally, all three legs can be removed and replaced with 3 Legged Thing's Vanz tripod footwear (although these are sold seperately) to create a table top or low-level tripod. This brings the new Punks 2.0 tripods into line with the company's Pro Range 2.0 and Legends tripods.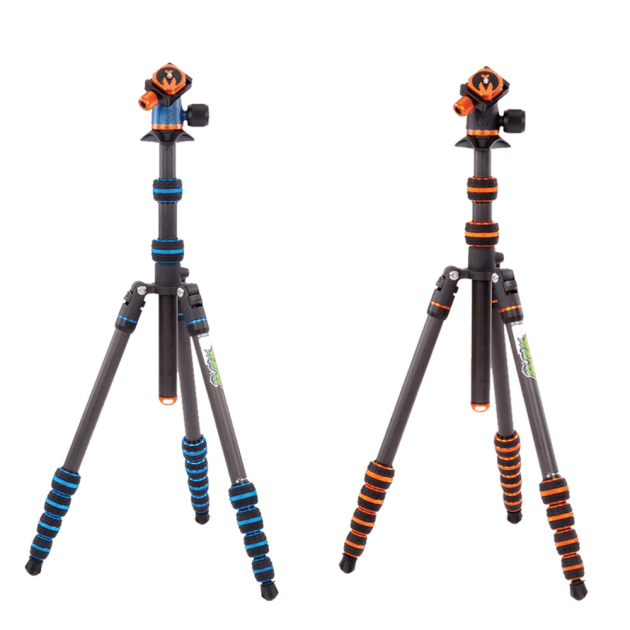 Based on the increase in users shooting both photos and video, the company has added a 1/4"-20 thread to the canopy of each of the new  tripods. This enables the attachment of an arm for a light or monitor. 
The tripods' leg locks have also been given a facelift. They now boast a combination of knurling and rubber pads for increased grip and leverage, and weight has been added to the leg locks which lowers their centre of gravity making them more stable.
The Punks 2.0 tripods also now come with a protective carry bag which includes an outer storage pocket, built-in carabiner, and detachable extendable shoulder strap.
PUNKS 2.0 are available in two new colourways; Black with copper accents with a matte black AirHed Neo 2.0, or Blue with blue accents and a blue AirHed Neo 2.0.
The 3LT Brian 2.0 has an RRP of $633.00, Billy 2.0 $593.00, Corey 2.0 $453 and Travis 2.0 $433. You can find out more about the new range at 3LT.