Review: Sony A9
Sony's latest addition to its E-Mount range not only features ground-breaking technology but redefines what you can expect from a mirrorless camera. Dylan Giannakoupolos takes a look.

The Sony a9 has been heavily marketed towards sports and wildlife photographers, but after using this camera, I believe it is particularly well suited for event and wedding photographers too.
Whilst the a9's form factor is in keeping with the compact and portable aesthetic which mirrorless users have come to expect, the newly designed body features a number of welcomed ergonomic and functional changes in comparison to its a7 series predecessors. This is the first E-Mount camera to feature two SD card slots, ethernet and PC sync port, AF joystick, larger NP-FZ100 battery, as well as dedicated drive and focus mode dials. The C3 and movie button have been repositioned and there is now a dedicated AEL and AF-ON button.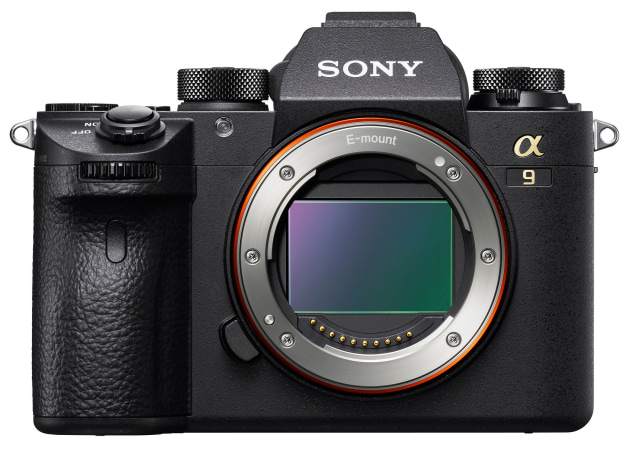 A number of the camera's dials and buttons have been redesigned to be beefier and have a much nicer physical response. This is particularly true for the control wheel which is considerably nicer to use. I did however find the focus mode dial to be a bit fiddly at first. It's great to see that Sony has included an AF joystick which is an incredibly useful feature, but I'm surprised that they still haven't adopted USB 3.0 into their cameras. I also wish that both SD slots support UHS-II to avoid bottlenecking the buffer.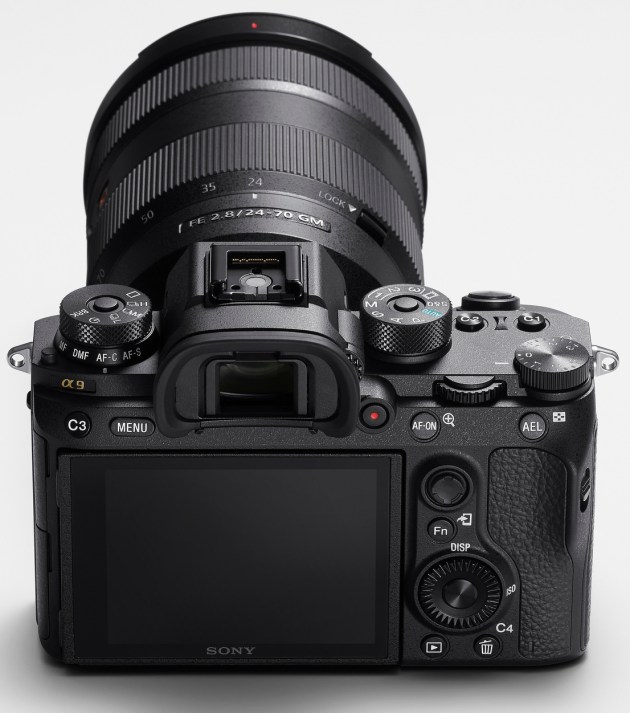 A lot of the ground breaking features found in the a9 are made possible by its 24.2-megapixel full-frame stacked CMOS sensor with integral memory. This revolutionary sensor technology enables the camera to shoot at 20 fps, with shutters speeds up to 1/32000s, whilst being completely silent and with no blackout. Silent shooting isn't a new feature, but the electronic shutter in the a9 features anti-distortion technology, producing images with uncompromised quality.
This feature is perfect for capturing candid moments at an event or wedding. As I mentioned before, this camera is marketed towards sports and wildlife photographers and with the ability to shoot at 20fps (4-6 fps faster than the Canon 1DX MKII and Nikon D5 competition), you never have to worry about missing THE moment. The a9 also features in-body 5-axis image stabilisation which was first introduced in the a7 II.
Mirrorless cameras whilst being lightweight and compact, are notorious for having poor autofocus especially in low light, when compared to DSLRs. Camera manufactures such as Sony and Fujifilm have been working very hard to change this perception and if there was ever a camera to do this, it's the Sony a9. Featuring Sony's 4d focusing system, the a9 boasts a remarkable 693-point phase-detection AF system which covers 93% of the frame.
I'm extremely impressed with the AF and believe it's far superior to the AF on any other E-Mount camera. Focus is acquired quickly and my hit rate when shooting moving subjects at 20fps was very high. How well the a9's AF and tracking compare to DSLR flagship cameras is up for debate, but its 693 PDAF points spread across 93% of the frame give the camera an undeniable advantage.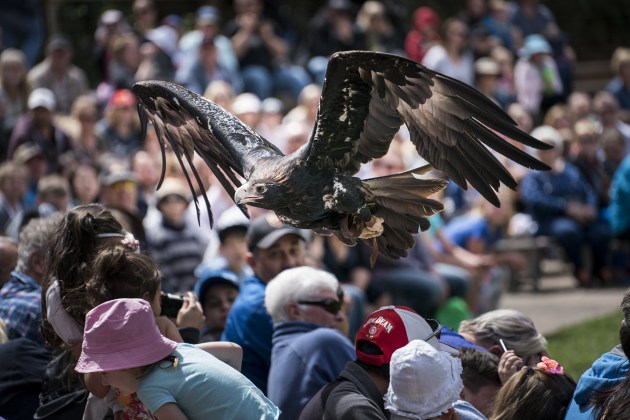 Another highly noted feature in the a9 is its improved Eye-AF and face detection system. To put this to the test, I brought it along to a campaign I was shooting for an eye ware label. I was blown away by the camera's ability to lock onto the model's eye, even when wearing sunglasses that were nearly opaque. The Eye-AF was quick, reliable and noticeably better than its predecessors.
I also tested the Sony 16-35 f/2.8 GM on the a9. The build quality is very impressive and it follows the same sleek and robust exterior design which comes with the G Master badge.
I'm a big fan of the Sony 16-35 f/4 and although it's a fantastic lens, the GM model is noticeably sharper. The zoom ring has the perfect amount of resistance, however the focus ring was too loose for my liking. Overall, this lens is a great addition to the E-Mount lens line up and is a pleasure to use with the a9's bigger grip.

The Sony a9 is a culmination of years of innovation, R&D and most importantly consumer feedback. Whilst some camera manufactures are releasing cameras with dated technology, Sony is once again pushing the boundaries with their latest release. With the price tag that comes with this camera, it's certainly not going to be for everyone and will be likely reserved for working professionals. However, this is a serious camera which is going to put other manufactures on notice.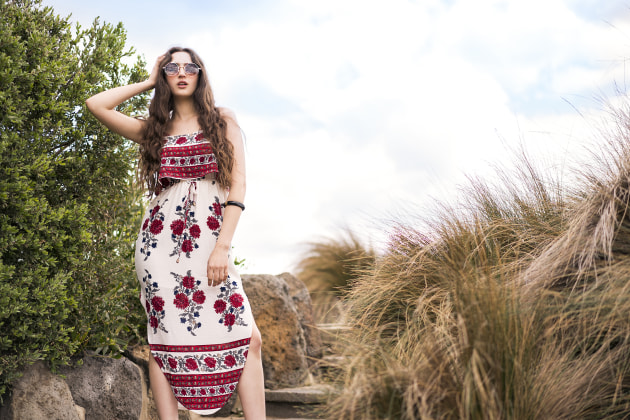 KEY SPECS
Resolution: 24.20 megapixels
Sensor size: 35mm (35.6mm x 23.8mm)
Viewfinder: EVF / LCD
Native ISO: 100 - 51,200
Extended ISO: 50 - 204,800
Shutter: 1/32000 - 30 seconds
Dimensions: 127 x 96 x 63 mm
Weight: 673g with batteries
Auto Focus Type: Fast Hybrid AF: 693 points phase-detection AF
Rear Display Resolution:  1,440,000 dots
Exposure Compensation: +/- 5.0EV in 0.3EV steps
SD card slots: Two
Usable Memory Types: MS PRO Duo / SD / SDHC / SDXC
RESULTS
Handling ★ ★ ★ ★ 1/2
The a9's newly design body with the AF joystick makes shooting with larger and heavier lenses such as the 16-35 f/2.8 GM much more comfortable. However I found the focus mode dial was a bit fiddly to use.
Features ★ ★ ★ ★ ★
This camera has a remarkable number of features, certainly a lot more than I could cover in this review. 20fps, shutter speeds up to 1/32,000s, silent shooting with no distortion and blackout, oversampled 4k with no crop factor and a touch screen with tilt functionality. The list goes on and on.
Exposure ★ ★ ★ ★ 1/2
When using the a9's histogram in conjunction with its metering, I never had any issues getting the correct exposure in camera. The a9's dynamic range is fantastic however the a7R II has a slight advantage in this area.
Image quality ★ ★ ★ ★ 1/2
The a9 produces excellent images and the image stabilisation is going to ensure sharp, high quality results even when shooting hand held, in dimly lit situations. It would have great to have seen a higher megapixel count sensor with the ability to lower your RAW file size like in the Nikon D850, when you want to shoot at 20fps.
Value for money ★ ★ ★ ★1/2
Whilst the a9 isn't going to be affordable for your average prosumer, when you compare the cost with Canon 1DX MKII and Nikon D5, it's roughly $1250 - $2200 cheaper. Given the a9 outperforms both of these cameras in a number of aspects, the price of the camera seems very well justified and great value for money.
Final word
I really enjoyed my time with the a9. If you have ever doubted if mirrorless cameras can compete with DSLRs, this one should change your mind.LEFT Even at 20fps, the a9's autofocus had absolutely no issues tracking my dog Hamish, whilst running as fast as he could. The hit rate even at high burst speeds was exceptional and I had plenty of frames to pick from. Sony a9, 70-200mm, 1/800s @ f4, ISO 1000.
SCORE: 9/10