Image Doctor: Watch that ISO!
In our regular Image Doctor column, photo educator Saima Morel analyses readers' images. If you'd like to have one of your images reviewed, drop us an email at imagedoctor@australianphotography.com
Photographer: David Wimble
Title: Sydney polo horses at rest
Details: Canon 7D, 50mm f/1.8 lens, 1/1600s @ f3.5, 100 ISO, with adjustments in Lightroom 5, cropping, sharpening, contrast, clarity. Noise reduction and saturation.
The image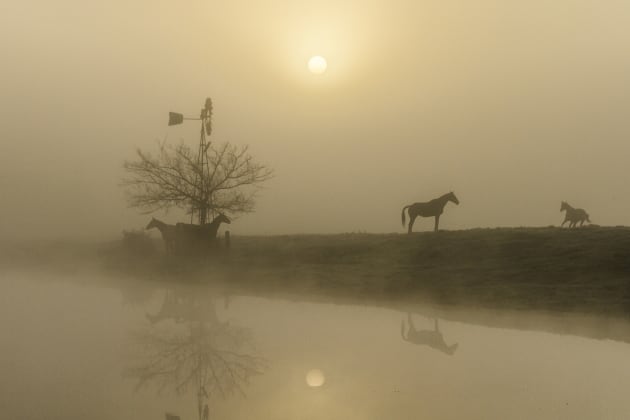 David says
"I got up at 4.30am, got dressed, had a strong coffee and drove down to Richmond Lowlands Sydney Polo farm to wait for sunrise. The fog was so thick and luckily the horses were at rest. I had to be quick to capture the right moment before he moved! I was so stoked for it was a rare sight!  It was two degrees that winter morning! This is my favourite spot for photography and I am glad it is close to my home."
Saima says
"Well, at least one horse was on the move, but that is not a bad thing as it adds a bit of dynamism to an otherwise fairly static scene. The fog is a good one and adds great ambience. There is a yellowish tint in the scene and this becomes quite evident when you zoom in. What is even more noticeable is all that colour noise, and your details indicate that you have already done some noise reduction! I also notice that the reflection in the water is incomplete. I think that you could have composed so that the top frame line was just under the sun, hence cropping it out. That reflection in the water would have then been more complete and would still have had a softer version of the sun. Most of the time, shooting directly at the sun just means you burn a white hole in the scene. Another suggestion would be to shoot vertically rather than horizontally."
Saima's tip
Lowish lighting and a high ISO are two key culprits when it comes to unwanted noise!