Should you join Vero?
If you're an instagram user, chances are you'll have come across Vero, which in the last week or so has exploded in popularity and quickly become the top ranked social media app on both the App Store and Google Play. 
Its creators claim the app makes sharing online content "more like real life," and provides a user experience much like instagram was back in the good ol' days of ad-free, non-algorythmic feeds.
Vero isn't a straight instagram-clone however, but does have a lot in common with it. It has a similar scrolling feed, although the company has assured us this does not use a sorting algorithm like the one that has frustrated many instagram users. 
Its other key selling point is it lets users pick who can and cannot see their posts. They can do so by categorising followers based on real-life relationships ("close friends," "friends," and "acquaintances"). Users can also post links to websites with URLs (yay!) something that Instagram has never permitted.
Finally, Vero is ad-free, which means your data won't be sold to advertisers and you won't see endless advertisements in your feed, something instagram is definitely ramping-up. Because it's ad-free, the company says it will charge "a small annual fee" of a couple of dollars a year, but for now is offering free lifetime service to its first 1 million users.
The highs and (low) lows
Launching in 2015, Vero languished in the app store for more than three years before a smart marketing campaign over the last few months sent its stocks soaring. It's safe to say the team at Vero probably had no idea of just how popular the platform was going to be however, and the app is very inconsistent right now. Users have reported crashes, bugs and difficulties with deleting their accounts.
There's also been questions raised about the human rights record of the billionaire creator Ayman Hariri, which are disturbing to say the least.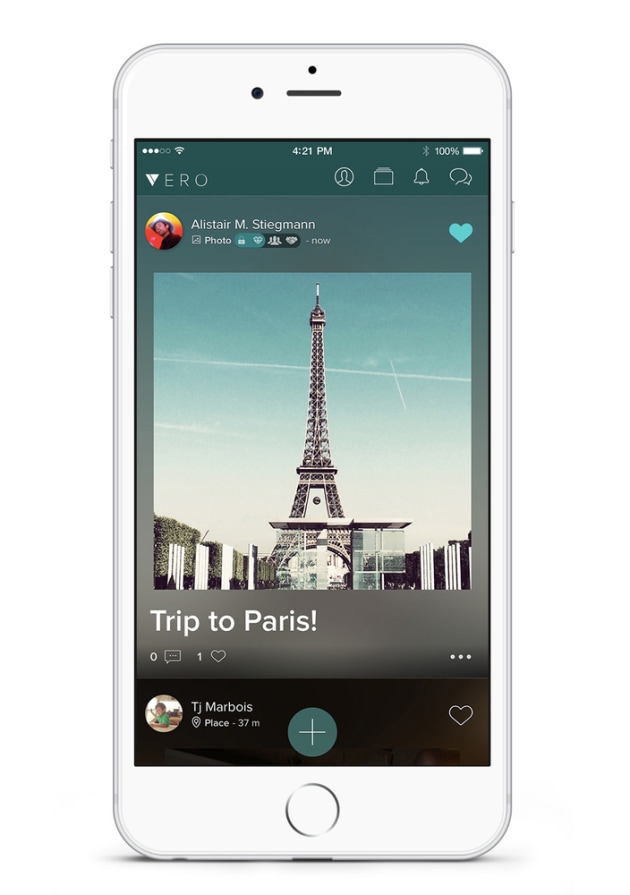 What about your images?
As with any social media platform its always worth taking a look at the terms and conditions rather than scrolling through them at speed. As reported at The Industry Observer yesterday, the Vero terms do give the company a fairly rigourous license to do just about anything they like with your images:
3. User Content Ownership and License  
As between you and Vero, you retain any and all right, title and interest in and to the User Content you create, post, or otherwise make available through the Service. We claim no ownership rights over your User Content. 
In accordance with your choice of the privacy settings offered by the Service, by posting or otherwise making available any User Content on or through the Service, you hereby grant, and you represent and warrant that you have all rights necessary to grant, to Vero a limited, royalty-free, sublicensable, transferable, perpetual, irrevocable, non-exclusive, worldwide license to use, reproduce, modify, publish, list information regarding, translate, distribute, syndicate, publicly perform, publicly display, make derivative works of, or otherwise use your User Content, including (without limitation) your name, voice, and/or likeness as it is contained within your User Content, in whole or in part, and in any form, media or technology, whether now known or hereafter developed.
That said, many platforms, including instagram, have similar terms to protect themselves and allow them to resize images. 
Have you joined Vero? Let us know your experience in the comments.