Telling stories visually is a highly developed skill, whether it's via still images or moving pictures. Michael Rayment shares his experiences creating an audio visual essay called My Life in Two Minutes.

Our lives can change slowly over time or with just a split second's notice, leaving behind a trail of sadness or joy and a life which will never be quite the same. I wanted to capture people's life-changing stories and I've spent the last 12 months undertaking a long term audio-visual photo essay called My Life in Two Minutes. My passion is photography, I work with technology and I have a background in social science, so for me audio-visual photo essays based on social issues are perfect in bringing these three elements together.

Another name for this type of photo essay is a social documentary. Audio-visual photo essays are stories that involve multimedia, including narration, music, text and images. They follow a particular theme such as a compilation of travel destinations, a collection of old cars or the start to finish of a kitchen renovation. Therefore, audio-visual photo essays can be very broad and involved, but they aren't limited to landscape, portrait, building, technical, product and environmental photography.

I first became involved in photo essays about a year ago when I was working on a small project that involved interviewing a person at an exact place where they had a life-changing experience and reinforcing their story with a photograph. At the time, a friend had been involved in a car accident where the driver of the other vehicle died at the crash scene. This had affected her deeply – she experienced anxiety and depression which impacted on her job and relationship with her family. The idea of creating a story based on her experiences appealed to me as this could serve as a message to the driving community about road safety. But at the same time, I felt somewhat of a ghoul for asking. To my surprise she readily agreed.


A lot of thought is required to come up with ideas that help to tell your story. In this image I attempted to capture a solemn moment while the world whizzed past. This was the exact location where my friend's accident happened. Canon EOS 5D Mk II, Canon EF 24-105mm f/4L IS lens @ 105mm, 1/80s @ f/9, ISO 100.


Returning to the scene of the accident visibly upset her and raised ethical questions of informed consent, given her state of mind. She assured me she needed to do the story, as she believed it could be therapeutic, so I took some photographs and conducted the interview. At the time, I used an iPhone to record the audio, but my inexperience resulted in every interviewer's worse nightmare – I'd pressed the wrong button so no sound was recorded! I had to do the interview again and put her through the ordeal of living every moment of the car accident for a second time, which could have been avoided had I been appropriately prepared. I can't stress the importance of knowing your equipment so you're confident of capturing sounds and images with the minimum amount of fuss. People are giving up a substantial part of their day and it can take many hours to set up equipment, interview, take photographs, then pack up. They are also sharing a part of their life, so it's vital not to appear an amateur and to end up wasting everyone's time.

SHOOT HORIZONTAL
When it comes to shooting an audio-visual photo essay one of the best pieces of advice given to me was to shoot in landscape. This was a real challenge as generally people are photographed in a portrait (or vertical) aspect. However, in post production, the entire frame – that is a 16 x 9 area – needs to be filled to avoid dark edges on either side of the image. This is easily achieved in landscape, but it requires the image to be cropped much more when shooting in a portrait aspect. Using a camera with high megapixels will help diminish loss in quality created by excessive cropping, but it can't help with the loss of image content. To include a portrait aspect by increasing its size to fill a landscape format will mean certain parts of the image will fall outside the editing area. One way to minimise this is to animate the image so it pans from top to bottom to include more content. Shooting in landscape will result in far less cropping, while maintaining a lot more content.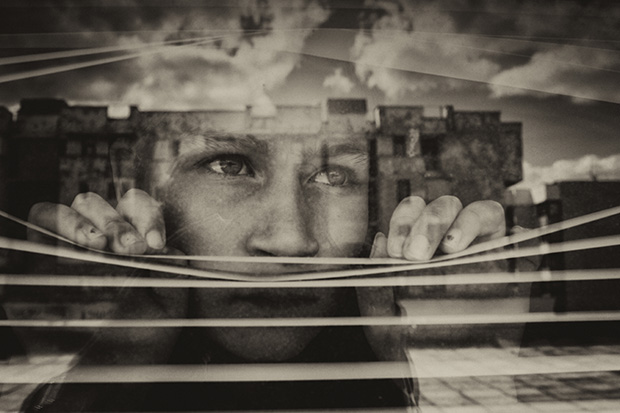 You don't always have to shoot images specifically for your audiovisual photo essay. Think about using some stock images you have already shot. I took this image in Sarajevo, Bosnia for my personal collection and later used it as an image for my photo essay on travel. Canon EOS 7D, 24-105mm f/4L lens @ 24mm, 1/160 @ f/8, ISO 200. Converted to monochrome then sepia using Nik Silver Efex Pro 2 software.

TRUST
I don't always have the luxury of a pre-visit prior to shooting so I can never be certain of the environment. As the person's home or workplace becomes my studio, I always carry several long electrical leads for lighting, a power board for additional outlets, a fully charged camera and recorder as well as spare batteries. I even carry an extra camera as I can travel great distances for a story and the entire shoot could come to a sudden halt should my camera decide to play up.

Because I'm asking people to share personal moments within their lives, gaining their trust is imperative. It certainly isn't a case of "yap and snap". It may take several days or even weeks of meetings and conversations before I gain people's trust. This was the case with "Vesna" whose story about escaping Sarajevo during the Bosnian war took almost a year to produce. This story nearly didn't happen as on the day I was to interview and shoot she asked if we could defer to a later date. I knew that if I didn't do it now it was probably never going to happen. Luckily, I was eventually able to convince her that the time was right and she admitted later she was happy that she did.

I find having a sense of humour can pay huge dividends in making people feel more comfortable and can really help in developing a rapport with subjects. Having a sense of empathy and respect in situations of sadness and tragedy is also essential. It's equally important to value people's decisions and treat their stories and images with dignity. I do this by avoiding, as much as possible, stereotypical images which reinforce a devalued view of the person. I also keep the person informed as to how I will use this important part of their life which they've shared and I have captured, whether it be on a website, having a Facebook or Twitter presence, or being exhibited. I'm equally careful in editing their audio so as not to change the essence of what was said.
Confidentiality is another issue that must be respected. I did a story on "Carl" who, after experiencing a back injury, found himself unemployed and homeless, and did not want any reference made to his surname. One of his story images contained awards and qualifications he had gained during his working life. I removed his surname from every award during post-production.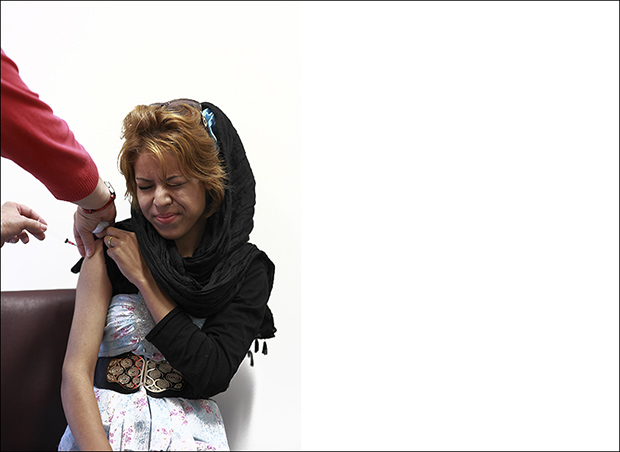 Sometimes an essay may require consent from more than the subject. In the case of Karinne, a nurse providing immunisation to newly arrived refugees, consent was required not only from the Area Health Service (that took more than 12 months) but also from Doctors, medical students and interpreters. Canon EOS 5D Mk II, Sigma 85mm lens, 1/320s @ f/2.5, ISO 1000.

BE PREPARED
Prior to shooting I research how other photographers have handled similar shots by looking at various photographic websites. I always do the interview first, as people will talk about particular issues or raise points I can develop into photographic ideas and opportunities.
It helps to plan ahead in terms of how the audio visual will be presented. Will it be static or will it have movement? Will there be a series of images that move rapidly to tell a story? Will there be a transition from colour to monochrome? Will there be picture in picture effects? Having a vision of this will guide what images I take.

FIND THE STORY
In the story of "Janelle and Tony", Tony suffered a stroke at 34 years of age while jogging. His relationship with Janelle is one of cheekiness, but respect. Given Janelle is Tony's primary care giver, she devoted much of her time to attending to his needs.
One way Tony returned this support was by spending time rubbing her feet. To capture this moment, I took a series of photographs while he rubbed away then created an animation effect consisting of eight images, each appearing for a second. This created a moving picture effect that highlighted this affection. As processes like this must be accomplished in camera and sequenced in post production, you have to have a vision and shoot it at the time. Always look beyond your initial intentions so that you walk away with more options. It's not so easy (and sometimes impossible) to ask for a reshoot, so grab all the images you can, while you can. Unlike the restrictions on image manipulation in photojournalism, I decide the level of modification in post processing, although I always initially try to get it right "in camera". I use Photoshop CS6 to edit RAW files and add layers when I require more creative images.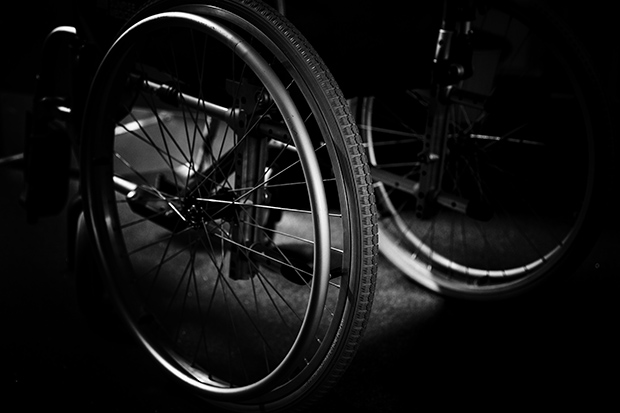 Interesting effects can be achieved by transitioning images from colour to monchrome. This image was originally colour before being saved then converted to monochrome. Canon EOS 5D Mark II, 24-105mm f/4 lens @ 50mm, 1/50s @ f/4, ISO 100. Converted to monochrome and vignette applied using Nik Silver Efex Pro 2 software.

VOICES
I now use a Marantz Professional digital recorder with a Rode Reporter microphone and edit audio with Audacity software, which is easy to use, and best of all it's free. I have had people talk for more than 40 minutes, so 0this needs to be balanced between doing justice to their story and keeping it at a length that maintains interest.

Initially, the goal for my project was to develop a story which ran for two minutes, hence the title – My Life in Two Minutes. But I found two minutes didn't always do justice to people's stories. A balance needs to be struck between quality and quantity and in my experience there is no right or wrong – only opinions. So, while some stories are strongly edited, the soul of the person's conversation remains intact, but is delivered within a timeframe that I believe will maintain interest.

On the other hand, sometimes people say very little within 30 seconds so I have to tease out information by asking questions or encouraging them to elaborate further. This may mean more work in editing to obtain a flowing dialogue, as their discussion can be fragmented. It's surprising how many "ums" and "ahs" are used in a conversation, so another editing task is removing as many of them as possible!

MUSIC
Finding the right music can take a lot of time. I copy and mix sample music with the audio file to hear what it will sound like, as just listening to the music alone will never give the same feel. It's important that the volume of the music is appropriate so it doesn't drown out the narrator. I find adjusting the mixer level while not wearing headphones and only listening to the speakers a useful way of gauging the right amount. Then when I think I have it right, I'll add a sample of images to get a true feel for the final product. When I'm satisfied with the choice of music, I always pay a license fee so I don't breach copyright laws. Most internet image stock photography sites also supply music and sound effects that range in cost from one dollar to hundreds.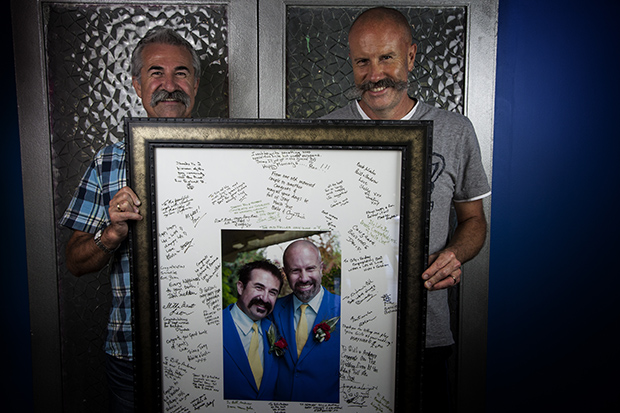 I never use photographs taken by other people but I will shoot an image incorporating someone else's work as long as I have consent to do so. Canon 5D EOS Mark II, 24-105mm f/4L lens @ 35mm, 1/60s @ f7.1, ISO 100.

FINAL TOUCHES
Finally I produce the essay as a slideshow using Adobe Premier CS6 and save it as a 720x1280 pixel mp4 file using Adobe Media Encoder before uploading to the Vimeo site as a means of sharing. A lot of work, preparation and thought goes into creating an audio-visual photo essay, but the results can be very rewarding and I relish in the fact that these essays give me direction, meaning and a purpose to create something a little better, different and special every time.

www.mylifein2minutes.com.au