Canon has demonstrated an eye-watering 120MP concept camera at Shanghai's Canon Expo 2016.

The 120MP beast was announced in September 2015, but the event in Shanghai was the as-yet unnamed camera's first unveiling. Build wise, the new camera shares much in common with the existing EOS 5DS and 5DS R.
Image courtesy dcfever.com

For the expo, the camera was housed on a glass table pointed downward at a box filled with different objects including a book with descending sized text and a matchbook sized book with even tinier text. The image from the camera could then be viewed on a giant wall display and on a computer - zooming in revealing the huge levels of detail that a 120MP sensor provides.

EXIF details show that each RAW .CR2 file captured by the camera comes in at a massive 214.1 megabytes. So it's safe to say if you're thinking of getting one of these 120MP DSLRs in the future when it launches, you'll probably need to stock up on memory cards first.

Whether there is enough consumer demand for 120 megapixels remains to be seen, although the potential of so many megapixels is pretty exciting - it can turn a standard lens, like the popular EF 24-70mm f/2.8L II USM, into a macro lens. That said, there are limitations. A number of Canon's lenses aren't recommended by the company to be used with the existing 5DS DSLR, and with the resolution bar set almost three times higher, it remains to be seen just how many lenses in the current line-up can leverage the full capability of the new behemoth sensor.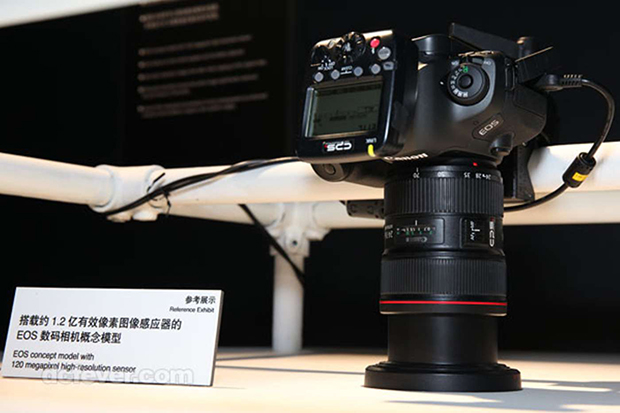 Image courtesy dcfever.com