One of the perks of this job is the unbridled freedom it gives you to test the latest gear. Want to try the new Canon 80D or the Sony A7S? Not a problem.

Trouble is, if you use enough cameras, your favourite camera becomes a mash-up of every camera you've ever tested. Love that sensor, these lenses, the weight of this body and the usability of that system. You also end up with an equally long list of dislikes. It's a nice surprise then when a camera comes along that ticks so many boxes it almost forces you to part with your money. Meet my new camera (more on that later) – the Fuji X-Pro2.
The X-Pro2's predecessor was launched in March 2012 and attracted plenty of love at the time. At the heart of the X-Pro1 was an innovative 16-megapixel sensor that took advantage of an irregular RGB pixel array to eliminate the need for a low-pass filter – an image softening slice of glass that normally sits in front of the camera's sensor to counter the effect of colour moire. Without it, the camera promised sharper images.

Other innovations included a clever viewfinder which let users switch between an optical rangefinder-style view (with all the usual camera info such as exposure and focus point), or a more conventional electronic viewfinder (EVF) view. A clever way to broach the gap between the optical viewfinder capabilities of DSLR cameras, while still offering the benefits of the mirrorless approach of showing you what the image will look like before you press the shutter.

Analogue controls for shutter speed, aperture and exposure compensation were a welcome relief, particularly compared to the slew of post-digital cameras that required you to hold one button, while turning another (or worse, delve into the menu system) to access the camera's most important controls.

While the X-Pro1 built a keen following, it wasn't long before people started to ask for more. More megapixels, video capabilities, improved, autofocus... the list went on.

Enter the X-Pro2. Released in February 2016, this camera is an absolute delight to use. And it's streaks ahead of the X-Pro1. So what's changed? First, the sensor is much more capable. It's still an APS-C CMOS sensor, but the resolution has been boosted from 16 to 24.3 megapixels and it can now handle a wider dynamic range. ISO extends from 200 to 12,800 (extendable to 100-51,200) – a big step up from the 200-6400 (100-25,600) of its predecessor – and there are dual SD card slots that can be configured to record Raw images on one card JPEG on the other, to record images sequentially, or create a backup on the second card.

And that's just the beginning. Fujifilm has worked hard to address some of the concerns with the original model's autofocus system. The X-Pro2 now offers 273 focus points (up from 49) directly selectable via a new – and very welcome – joystick on the back of the camera. The more effective AF is paired with new focus-check features including focus peaking – options include white (high), white (low), red (high), red (low), blue (low), blue (high) – digital split image, and a 10 or 20x zoomed picture-in-picture option. The verdict: focus is fast, accurate and easy to confirm – both in auto and manual modes.


The layout has been revamped and there's a new lift-and-turn ISO dial that sits on top of the shutter speed wheel. Some people have complained it's difficult to change quickly, but I doubt this will be an issue for many photographers. Personally, I change shutter speed and aperture much more than I do ISO so it's not an issue for me. At least the ISO control is in a prominent position, clearly displayed on a physical dial. No complaints here.

A bigger issue for me is the positioning of the exposure compensation dial which I accidentally bump nearly every time I use the camera. It's something I'm slowly getting used to – at least checking it before I start shooting – but a central push-to-release detent, like the one on the shutter-speed dial, might help to prevent inadvertent exposure problems.



Bondi Icebergs. Fuji X-Pro2, 23mm F1.4R lens. 1/15th of a sec @ F/4, ISO 400. © James Ostinga

Overall, the camera is beautifully simple to use, whether you're shooting in auto, assisted auto (shutter and aperture priority) or full manual. Much has been made of the X-Pro2's retro styling, but to focus on that too much misses the point. If you ever shoot manually (or semi-manually) the inclusion of a dedicated aperture ring, and old-school shutter-speed, ISO and exposure compensation dials is just good design. Sure, it's retro, but it also makes a lot of sense.

The X-Pro2 adds video to its feature list and while it tops out at 1080p – no 4K here – the quality is impressive. In our first few days with the camera we shot a short video with an X-Pro2 and a Sony Alpha A7s at Turimetta Beach, NSW. With both cameras shooting 1080/60p it was hard to pick the difference. That said, the Sony has the ability to shoot 4K and offers more options for video users. Serious video users might lament the absence of a headphone jack.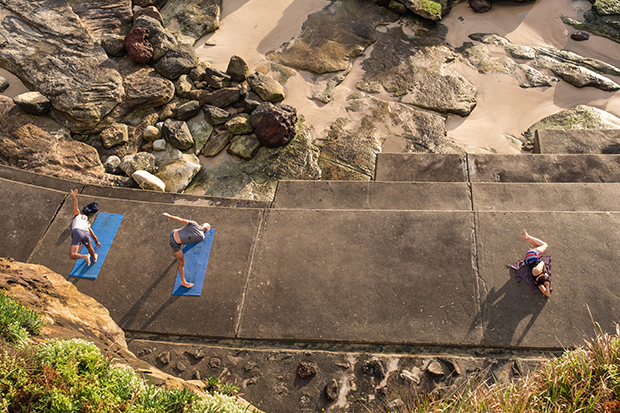 Bondi yoga. Fuji X-Pro2, 23mm F1.4R lens. 1/210th of a sec @ F/3.6, ISO 100. © James Ostinga

But most buyers of this camera will be more interested in stills than video, and this is where the X-Pro2 shines. The new 24.3MP X-Trans CMOS III sensor is a cracker. Low-light handling is magnificent all the way up to its maximum native ISO of 12,800 and the camera handles colour and contrast beautifully. You also have the option to shoot in several colour and black-and-white film-simulation modes, including Fujifilm classics Provia, Velvia, Astia, Classic Chrome and Acros, each with their own subtle colour and tonal differences.

All up, the Fujifilm X-Pro 2 is a compelling package. It's light and compact – certainly compared to any comparable DSLR – and it's delightfully easy, and fun, to use. The sensor is a revelation for a mirrorless camera and paired with any of Fujifilm's growing line-up of fast pro lenses the X-Pro2 is capable of producing beautifully detailed images. For those reasons, and a few more, the X-Pro2 and the excellent 23mm f1.4 R lens have won a place in my camera bag. I can't recommend it more highly than that.

Final word

An intelligently designed camera with a long list of useful features. Produces sharp, well exposed images. It's pricey, but you get a lot for your money. Highly recommended.

Tech Specs

Price: $2499 (body only)
Resolution: 24.3 megapixels
Sensor size: 23.6 x 15.6mm, APS-C
Sensor type: X-Trans CMOS III with primary colour filter
Crop factor: 1.5x
Lens mount: Fujifilm X mount
LCD monitor: 3 inch,1.62 million dots
Viewfinder: Optical, electronic hybrid viewfinder. Electronic viewfinder: 2.38 million dots, built-in eye sensor
Exposure modes: Program, aperture priority, shutter priority, manual
Exposure control: TTL 256-zone metering, multi, spot, average, centre weighted
Sensitivity: 200-12,800 ISO (in 1/3 steps) extendable to 100-51,200 ISO.
Focus modes: Single AF, continuous AF, manual MF.
Focus types: Intelligent hybrid AF – TTL contrast AF and TTL phase detection AF.
Continuous shooting: 8fps (up to 83 JPEG, 33 compressed Raw, 27 uncompressed Raw)
Still image formats: JPEG, Raw (uncompressed and lossless compressed), Raw + JPEG
Movie recording: Full HD 1920 x 1080 60p, 50p, 30p, 25p, 24p
Movie formats: MOD, MPEG-4 AVC/H.264 (video); Linear PCM/Stereo Sound 48kHz sampling (audio)
Storage media: Two SD/SHHC/SDXC memory card slots (UHS-I/UHS-II: slot one only)
Wireless: Yes. Wi-Fi for image transfer, view images, remote control
Power supply: NP-W126 Li-ion battery
Size: 140.5 x 82.8 x 45.9mm (W x H x D)
Weight: 495g (with battery and memory card)