Yongnuo's new smartphone add-on makes your phone a Micro Four Thirds camera
As first revealed over at Photo Rumours, Chinese manufacturer Yongnuo have revealed a smartphone add-on called the YN43 that turns your phone into a Micro Four Thirds mirrorless camera compatible with Canon EF and EF-S lenses.
The attachment features an expanding clip that holds the smartphone, which is padded to avoid scratches. Once you download the YN43 app to your phone and connect it via WiFi, the smartphone turns into a liveview screen for the camera. Or put it another way: the YN43 contains the sensor, the phone acts as the screen and the addition of a lens completes the system.
Screenshots of the app reveal that all the usual adjustments can be made, including exposure compensation, aperture, shutter speed and ISO.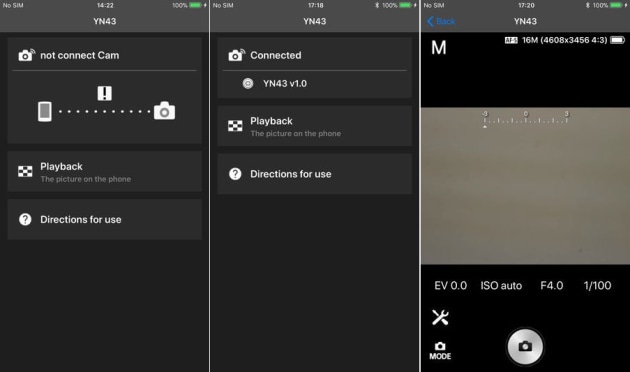 The system appears to work much like the DJI Osmo, or similar products like the Olympus Air. 
We have no information about pricing and availability costs, but Yongnuo products are sold at B&H and Amazon, so it is possible the YN43 will appear for sale there.