VIDEO: Safe, simple storage: Hands on with the Synology DS1517+
SPONSORED
Struggling to keep your growing image library organised, accessible and safely backed up? As pro photographer Anthony McKee discovers, Synology's newest NAS system, the DS1517+, is the ideal one-stop storage solution for photographers of all levels.
Photographers are always keen to spend money on new cameras, lenses and travel for the sake of making great photos, but few ever give thought to the latent value of their photographs, and how they will store and protect those valuable images for the future. Many photographers simply download photos to their computer's hard drive, but hard drives are prone to failure. And storing your photos in a "cloud" is an option, but what happens if that cloud should ever evaporate?

It is for these reasons that many photographers store their photographs on Network Attached Storage (NAS), intelligent storage devices that connect directly to your home or office ethernet network and allow you to build your own private cloud. Most NAS systems have two or more bays that let you install your choice of Hard Disk Drives (HDDs) or Solid State Drives (SSDs) to create as much storage and data protection as you feel you need, and it can be a lot more cost effective than relying on ordinary external hard drives.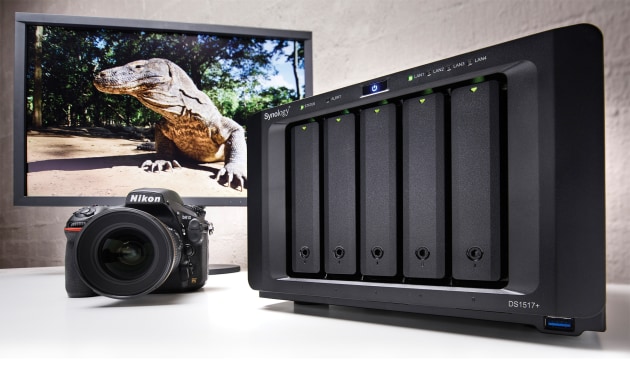 Synology is one of the world's leading makers of Network Attached Storage, and its newest NAS, the DiskStation DS1517+ has five bays in which you can put up to five 3.5" HDDs or 2.5" HDDs/SSDs. On its own this can give you up to 50TB of total raw capacity, and up to 150TB of raw capacity with expansion units, but most NAS owners will typically use the drives as a RAID array to protect their data in case of drive failures. With Synology's proprietary Synology Hybrid RAID (SHR) you can have at least one level of redundancy, so that if one drive fails, your photos are still safe.

The Synology DS1517+ is more than just a storage device though; it is also a computer containing an Intel Atom 64-bit quad-core processor with 2GB or 8GB of RAM (both expandable to 16GB). This computer keeps an eye on how the hard drives are performing and it can also be used to manage a lot of intensive tasks at the same time.

Using software that is easily downloadable on the Disk Station Manager (DSM), a user-friendly web-based system manager for each Synology NAS, you can use the DS1517+ to automatically sync and backup photos and data from your computer or phone, and even from your USB devices. After syncing or backing up your photos, you can create albums with a few clicks and share them to designated groups or public, or embed them to your own website.

If you happen to be a frequent traveller, you can always use a secure login to access data on your NAS from anywhere in the world. Your NAS can also be used to stream your photos, music and videos about the network, host your own website and mail server, and even manage home security cameras about your home.




A Synology NAS is more than just a storage device; it is an intelligent solution for consolidating and managing a range of digital assets of your life, regardless of whether you use Mac or PC, or even mobile devices. And because a NAS is a network-based device you can keep it literally anywhere you have network access while keeping your data private and secure. Ultimately, a NAS is a device that you invest in if you believe your photographs are good enough to be storing and protecting for the future. If that is the case, then you really want something that is going to actively look after your work in the years to come.