Review: Huawei P20 Pro
First we had one, then two, and now three. The Huawei P20 Pro is the first smartphone with three(!) cameras. But the Chinese-manufacturer's latest flagship also has impressive battery life, a furiously-fast processor, oodles of storage and a beautiful screen to make it the best smartphone we've used in 2018.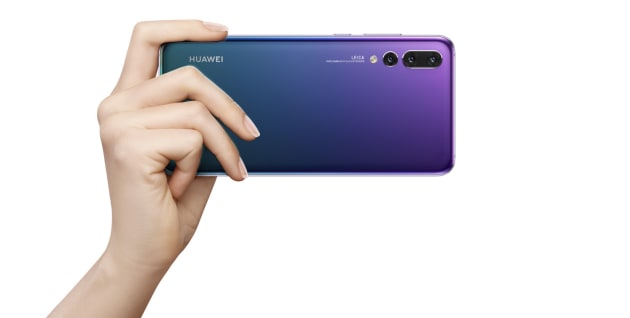 Build quality
As mentioned earlier, the P20 Pro is Huawei's flagship smartphone and the company has clearly pulled out all the stops to make it one of the most beautiful too. You can get it in a striking oil slick-like blue colour, although it's also available in a slightly more muted black if the flashy thing isn't your style.
Comfortable in the hand, the body is made of aluminium and toughened glass and features a nearly edge-to-edge OLED screen that has larger dimensions than most smartphones at 18.7:9, which is taller than a standard 16:9 screen and allows for more screen real estate. It's HD too (1080 x 2160) and displays very vibrant colours.

The Pro also features one of those very hip notches at the top, like the iPhone X, although Huawei have cleverly included a software fix to allow you to put two black panels on either side of it to blank it out. Aesthetically I think it looks much better with this fix in place, and it's cool to have the option.
Huawei have chosen to place the fingerprint reader on the bottom of the phone and not the back, but it seems to work well here. The face detection unlock abilities are excellent - rarely lagging when it comes to recognising a face, and only struggling in anything but the lowest of light. Whether the face detection is actually secure is another point entirely, although two friends were unable to unlock it when I handed it over.
Performance
The in-house developed Kirin 970 processor gets a huge 6GB of RAM (2GB more than the standard P20), and in real-world use is a total rocket. I could juggle image editing and cloud syncing in the demanding Adobe Lightroom mobile, along with running multiple apps including Instagram, Facebook pages, and cycle between two games, all without any framerate drops or lags.
Surprisingly Geekbench scores don't necessarily back this up, with the P20 Pro sitting in about the middle of the pack in terms of performance, although in my experience I found nothing to complain about.
Battery life
We're now getting smartphones capable of better and better battery life, finally, and the battery in the the Huawei P20 Pro is big - 4000mAh, which I found easily lasted a day, and with intermediate use was able to last two days. I took the phone on an overnight trip to NSW's Watagan National Park, and although I had it in airplane mode for some of the time, I came back to 54% battery, which is impressive.
The P20 Pro charges with USB-C, which is a bonus if you're like me and have a Macbook Pro as it uses the same charger. The Pro is also capable of fast charging thanks to its 'super charge fast-charging' feature. In use, I was able to go from zero to close to 50% in just 20 minutes.
The camera
So, what about the camera(s)? Well, simply put, the results are fantastic. Your initial thoughts might be to dismiss the three camera setup as a bit of a gimmick, but when you consider how they have been optimised to work together, and you see the resulting images, you'll probably change your tune.

The main sensor is a fast f1.8 40MP telephoto, which sits above an f1.6 20MP monochrome sensor. This is for depth and texture, and finally there is an f/2.4 8MP sensor for zooming. All three feature stabilisation, with the first two benefitting from AIS (Artificial Intelligence Stabilisation).
All three sensors work together, with each being assigned a specific role. The 40MP RGB sensor captures colour, the 20MP monochrome sensor captures more detail, as well as texture, before making calculations of depth for the artificial bokeh effect (if required). The 8MP sensor is used for zoom.
These are backed up by a 1/1.7-inch RGB sensor, which is approximately twice the size of the smaller sensors in most other smartphones, and is capable of capturing around 20 per cent more light than most rivals.
Improving the camera capability further is the inbuilt Artificial Intelligence. When you're framing a photo, the AI will recognise the environment — a sunny day, for example — and adjust the camera's settings accordingly to ensure the best results. In use it was scarily accurate, identifying buildings at dusk and appropriately kicking in night mode, and identifying faces for portraits and creating a shallow depth of field, all with zero fuss.
If using the AI isn't your style there's manual features as you might expect, along with plenty of shooting modes including Panorama, Light Painting, HDR and a dedicated Monochrome mode. When it came to night shots I was able to get handheld four or five second exposures thanks to the inbuilt AIS, and they weren't just a blurry mess. Long exposures got even better when I rested the camera on a windowsill and focussed on keeping my hands still while shooting.
It's this lowlight performance that left me most impressed. The dynamic range is excellent, and images retain great detail with minimal noise.
The only downside to the camera is Huawei's post processing is a little heavy handed on the saturation, and I still find it a bit disconcerting that Huawei's default for selfies is a quite intense beauty mode that makes skin look waxy and a bit weird. I get that it's popular with a Chinese audience, but I'd prefer to be able to permanently disable it.
Summary
The Huawei P20 Pro is an impressive smartphone that demonstrates Huawei's considerable investment in optics and imaging. You get a fast processor, a great screen, and a lovely design, all with the best smartphone camera we've used. Better still, it's relatively cheap for a flagship at just $1,099, cheaper than the Samsung S9 ($1,199) and S9+ ($1,349) and Apple iPhone X ($1,549).