Panasonic drops release date for 4K video monster, the GH5
Panasonic has revealed the GH5 will be released in the first quarter of 2017.
Some three years in development, the new mirrorless camera includes updated video options, photo enhancements to Panasonic's fast autofocus system and a host of new features that the company hopes will continue from the success of the GH4. Panasonic has also announced new Micro Four Thirds lenses to go with the release.
The major update the GH5 gets from its predecessor is a 20.3-megapixel sensor, with its anti-aliasing filter dropped to aid production of sharper photos. The GH5 also gets Panasonic's latest Venus Engine processor, which enables faster sensor readout and processing speed.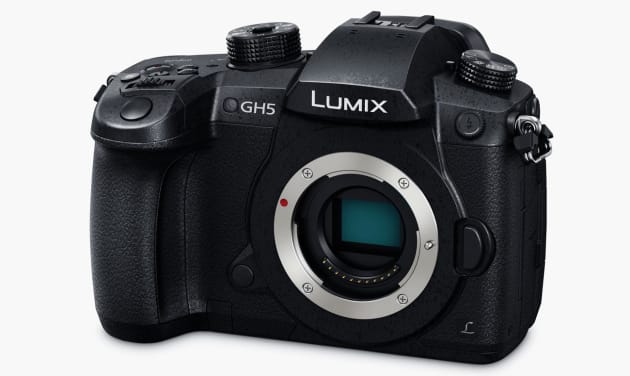 Video recording is where the GH4 won many devotees and the GH5 looks set to up the ante in that area, although it has been reported that some capabilities may not be within reach of shooters until the arrival of firmware updates in April and later in 2017.
While the GH5 boasts 4K 4:2:2 10-bit internal recording including 4K/60p and 50p frame-rate options, all-intra 400Mbps (4K) and 200Mbps (HD) codecs, simultaneous internal/external recording for all but 4K/60p, HD 4:2:2 will only be available via firmware update. The new camera can also record at 1080p at up to 180fps - suggesting it will be a powerful tool for slow motion video. Stills shooters will be well-taken care of, as the GH5 builds on the GH4's 4K photo abilities, now offering a 6K Photo feature, which will let users grab 18-megapixel frames.
Panasonic's new flagship also has high-resolution anamorphic mode and 4K Hybrid Log-Gamma (for HDR10-standard HDR). It will offer variable frame rate and anamorphic recording, a waveform display, a new "709-like" gamma profile, and the ability to program two focus points via the touchscreen.
The DFD (depth from defocus) AF system in the GH5 rises to 225 areas from Panasonic's current 49-area maximum, in addition it now samples focus at 480fps and users can set the AF sensitivity and tracking parameters. The camera also gains Panasonic's combo sensor-shift/optical Dual IS image stabilisation.
In the GH5, Panasonic have promised a 6K Photo feature, giving the option of grabbing 18-megapixel frames.
The camera also gets a connectivity upgrade to support 5GHz as well as 2.4GHz bands, plus low-power Bluetooth for a persistent connection. It also boasts a new-to-the-market OLED viewfinder with a resolution of almost 4 million dots, and it incorporates two UHS-II SD slots.
The GH5 body is claimed to be freezeproof down to 14 degrees F (-10 degrees C), has an updated microphone that can be used in conjunction with add-on mics to cancel out ambient noise. 
The GH5 is expected to be available at the end of March or early April in the US for $2,000, body-only. No news yet as when it will be available in Australia at its expected price of around $2,775. We expect to see the new camera early in March.
Panasonic's new 12-60mm f/2.4-4 lens announced at Photokina is expected to be available around the same time, and part of a kit with the GH5.
More info available here.