DJI unveils the Mavic 2 Pro and Mavic 2 Zoom drones
DJI has announced two new drones to its Mavic series: the Mavic 2 Pro and the Mavic 2 Zoom.

The Mavic 2 Pro features a Hasselblad camera—the first implementation of Hasselblad's technology since DJI purchased the company in 2017. Inside is a newly redesigned 1-inch 20MP CMOS sensor and 10-bit Dlog-M color profile, which allows the Mavic 2 Pro to capture four times the level of color detail as the Mavic Pro. With an aperture range of F2.8 to F11, the drone also shoots 4K video with 10-bit HDR.
The Mavic 2 Zoom features 2x optical zoom (24mm-48mm) along with a 2x digital zoom (49mm-96mm) and can capture lossless video in full HD. It features a new 1/2.3-inch CMOS 12-megapixel sensor, has an ISO range of 100-3200 and features phase and contrast detection AF.
The Mavic 2 Zoom has a new feature called Super Resolution, which uses the drone's optical zoom to shoot nine individual images and then stitches them together into 48-megapixel photos.
The bodies of the two drones are identical, although slightly larger than the original Mavic Pro. Both feature omnidirectional sensors that track the drone's movements, and both have 3-axis mechanical stabilization. DJI says a redesigned winglet and new motors make the two drones quieter too. Each has a flight time of 31 minutes.
In terms of video, both models can record at a maximum bitrate of 100 Mbps using H.265 compression, and include 8GB of internal storage. 4K video is recorded at up to 30fps as well as HD video at 120fps.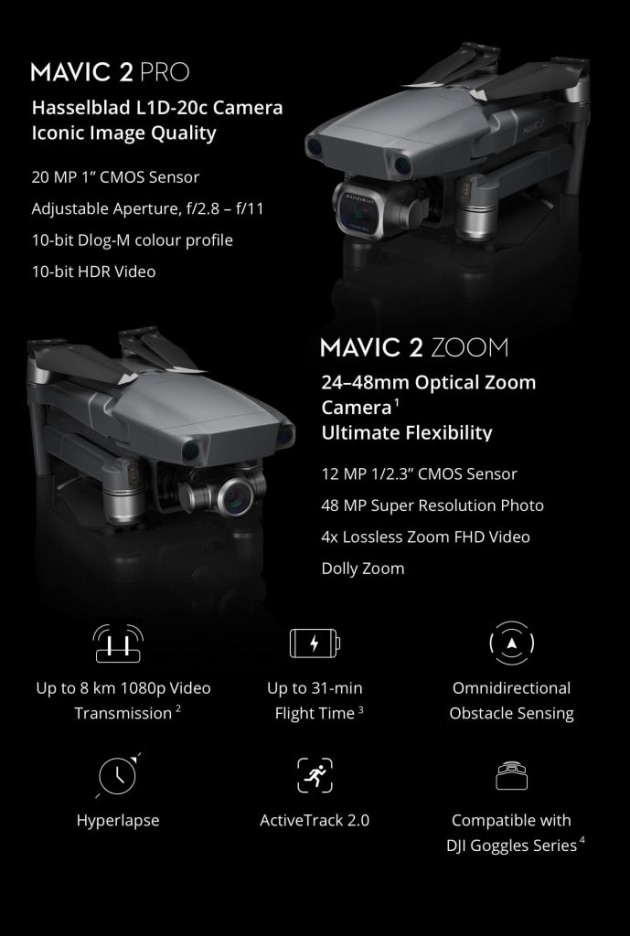 The new drones also feature updated intelligent flight modes like Hyperlapse and ActiveTrack 2.0, which can now avoid obstacles and continuously track subjects thanks to the 10 sensors found on each drone. Both drones promise to offer improved communication with their respective controllers, and can transmit 1080p video up to 8km away from the controller.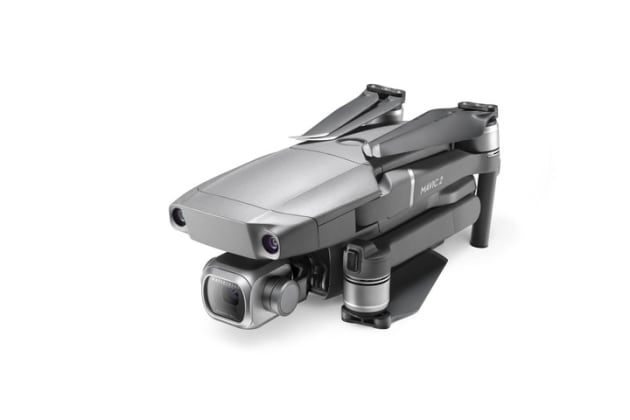 Local pricing has not been confirmed but the Mavic 2 Pro will retail for $1,449USD ($1,990AUD), while the Mavic 2 Zoom will retail for $1,249USD ($1,729). DJI have also produced a handy comparison document to show the difference between the two drones here.