Photo tip of the week: How to shoot dancing events
As modern cameras have become better and better at shooting in low light, photographing the glitz and glamour of ballroom dancing has become easier than ever. Here's how to do it.

Over 10 years ago I wrote an article for Australian Photography about photographing ballroom dancing – but a lot has changed since then! Ballroom dancing or "dancesport" as it is now known these days is one of those niche sports that gets airplay every now and then through shows such as "Dancing with the Stars".

My involvement in photographing dancesport evolved from competing combined with my passion for photography. The excitement and the quality of competition has always been a magnet to me, both as a competitor and as a photographer.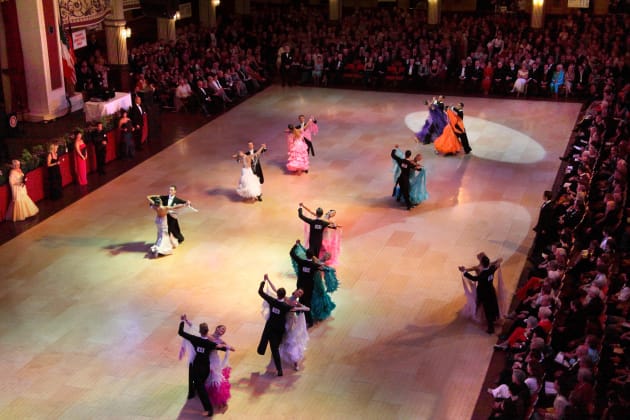 Getting started
In many respects dancesport photography is similar to motorsport – you need to be alert with your sixth sense to capture the quintessential moment. Essential equipment for dancesport photography is a DSLR and a zoom lens with a focal length of around 28-135mm for full frame sensors, and the equivalent for APS-C sensors.

Lighting is always a problem and prior knowledge of a venue will be beneficial. These days I rarely use flash due to the advantages of using high ISO's, with 6400 – 12800 now usable.

As the action is taking place on a dance floor some 10-20 metres away from where you'll be, a focal length of around 85 mm is ideal to capture the action . It can be quite brisk, and you'll need to use fast shutter speeds of around 1/250th of a second if you want to have any success. Obviously the effective use of ISO will be a dominant factor in achieving this type of speed at venues where the lighting is poor.

Remember that not all action occurs on the floor, so use your camera to capture the action on the sidelines. Nervous couples waiting for their event and competitors limbering up or stretching are always interesting, as well as junior competitors being preened by their parents before their big moment on the floor.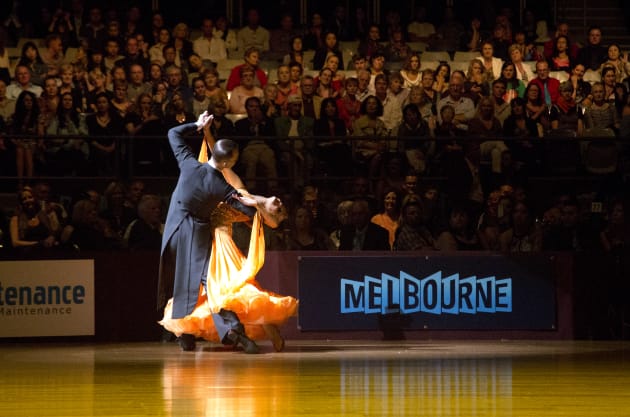 The big event
There is nothing to match the magnitude, excitement or atmosphere of a big event. I've photographed at many Australian dancesport championships and recently at the famous ballroom championships at Blackpool in England. The best dancers from around the world descend on Blackpool for 10 days of competition every May and the venue itself as an amazing spectacle in itself.

The downside to shooting at these events is the fact that access to and proximity to the dancefloor can be restricted, particularly with evening finals. But don't let this put you off - whilst the finals will restrict movement, the early rounds will provide plenty of opportunities to capture the atmosphere and some excellent dancing.

The finals, which are usually staged at night, will invariably feature strong directional lighting that can easily and effectively be captured with high ISOs. If it is difficult to get close to the action in these situations, I tend to pull back and photograph from the back of a venue (if there's elevated seating) using a focal length of around 35mm to capture the spectacle of the event.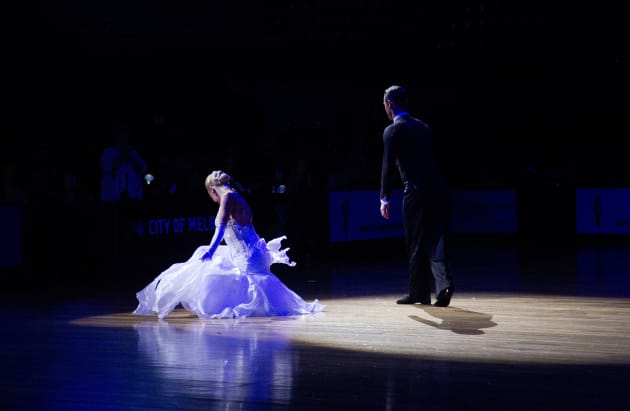 At major competitions the winners will often be called upon to perform an honour dance. In these situations, the winning couple is usually on a "high" and will perform their dance under a spotlight. To cover this, I usually increase the focal length to around 135-200mm. This is particularly useful if I'm seated back from the floor in an elevated position. In these situations, I will increase the ISO to 12800 and either use manual exposure or change to spot metering (remember that the audience will be in the dark which provides a challenging situation for your camera's metering system). In these situations I try as quickly as possible to assess the exposure before the dance commences. Don't be afraid to make adjustments on the go.

Prior preparation is vital to your success. Many dancesport events are held in large function halls like town halls or ballrooms at major hotels. If you can, visit the location to visualise where the best angles will be.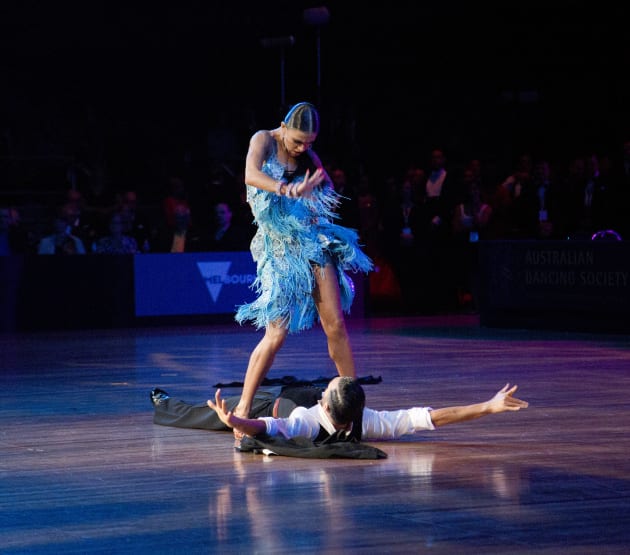 Practice makes perfect
In the early rounds, practice on getting the right angles and movement. Luckily in the age of digital there is no real cost to do this, but when I first started out doing this type of photography, film was the only choice, so practising was a costly exercise!

Through practice, I got the knack of anticipating the right moment. Move around the venue and look through the viewfinder constantly to get an idea of how the image will look and if the dancers will fill the frame. An excellent trick is to pick out a good couple in the early rounds and look to see where the best image can be taken. Most couples will dance a set routine so you'll be able to determine where the best location is when they dance. Of course, as with any sport, the unexpected can always happen; when the perfect shot is lined up it's more than likely another competitor will dance in front of you at precisely the wrong moment!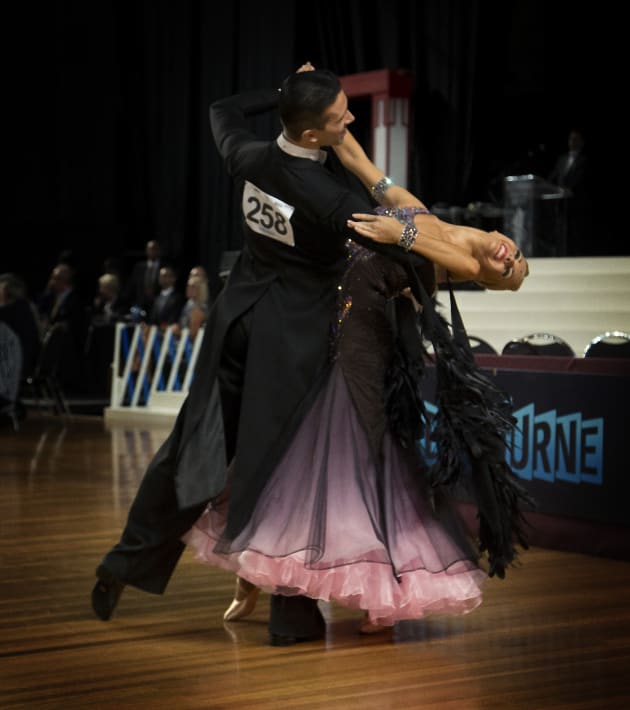 Continuous mode is your friend
This might seem an obvious tip, but it's important. These days the only limitation is the amount of storage on your SD or CF card in your camera and how much back up you have at your disposal. The reason that continuous mode is useful is that the ultimate shot can be a split second difference between failure and success when shooting people in action.

Lastly, your choice of shutter speed can be the difference between an exceptional image and a disappointing one. I've found it's best to operate in either manual mode or shutter priority with shutter speeds in excess of 1/250th . This allows the action to be captured as sharply as possible. You can get away with 1/125th, however the faster the better the top couples generate quite a bit of floor speed. At some venues where the lighting is either poor or quite directional, increasing the ISO to around 6,400-12800 is not out of the question either.

One final note, I have discussed a lot about freezing the action, but you can also go the opposite way and use longer shutter speeds to blur it. It just requires a bit of creativity. For example, where there are a number of couples on the floor, you can focus on a couple that is fairly stationary and use a shutter speed of around 1/8sec. The resulting effect can be quite dramatic where the other couples dancing are blurred and the stationary couple is sharply in focus. As with any photography, the only limitation is your creativity. ❂