Madrid's Five Best Photo Locations
Once again in a series of articles for my frequently visited cities, I have compiled a list of locations for first time photographers to Madrid. The list is not a strict itinerary and I encourage you to go off the beaten path. It's a rough guide to get lost with a purpose. When I went, I focused on street portraits, architecture and night shots of the city. 
I went to Madrid last April and walked the city streets with my customers as seen in the Google map below. Madrid has a population of almost 3.2 million with a metropolitan area population of approximately 6.5 million. The looped walk I have put together without stopping should take about an hour and thirty minutes.
Most of my photo walks without a break last around three hours before fatigue kicks in. The city is vast so I have chosen to pick the most popular and easily tackled parts on foot, you can start and stop wherever you like. Puerta Del Sol is a central starting point as seen in the photo below.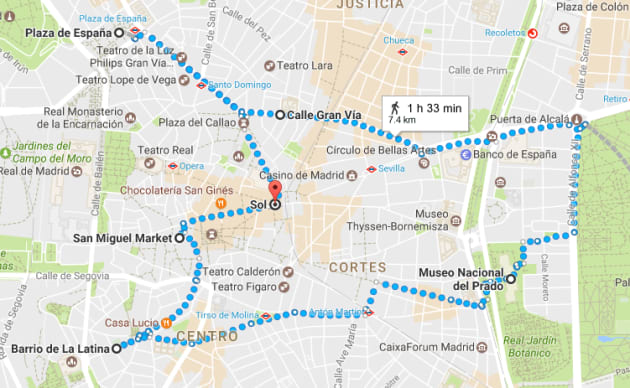 1. Puerta Del Sol
Compared to Barcelona's grid map pattern, Madrid is more radial. It's fascinating to wonder if the behaviour of walkers varies according to how a city is planned. Let me know in the comments if you have any good evidence to show differences between radial and grid urban planning.  
With smart phones and a GPS constantly following your path, sometimes it's fun to get a little lost. Serendipity can lead to some fabulous photos you wouldn't normally discover. Other points of interest nearby are the Plaza De Pontejos and the Plaza De Santa Ana which are easily found on Google Maps.
2. Plaza San Miguel
If you are looking for good tapas at Mercado San Miguel and want to try a bit of everything from different provinces of Spain, this is the perfect place for lunch or a snack. Keep in mind it's not cheap but it's convenient. Also just a kind reminder to exercise common sense with your valuables in these dark and crowded places. If you can manage to get a table close to natural light, hand-held food photography works great with a 50mm macro lens. A small reflector also comes in handy to throw some more light into shadows.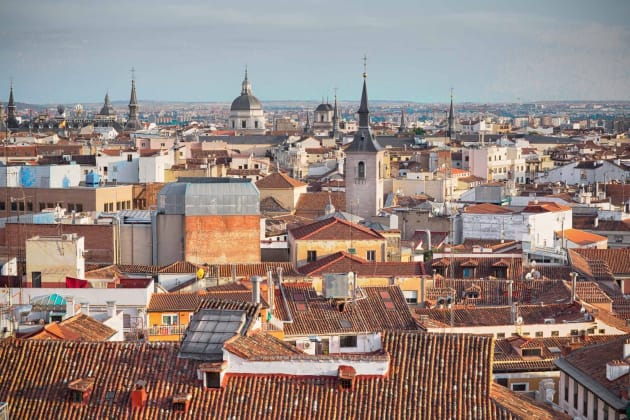 3. Barrio De La Latina
From Plaza Mayor is one of Madrid's most vibrant main squares. Another ten minute walk from here and you can reach a barrio with fewer tourists. The barrio has gone through gentrification, making it very appealing. The menu of the day is usually the best choice with 3 courses included for 10-12 euros. Weekdays during the day have much less foot traffic. The two main streets that are home to the majority of bars and restaurants are Cava Alta and Cava Baja. A good meeting point if you want to meet a friend at night is Plaza De La Cebada. Other nearby points of interest are Plaza de La Paja, Plaza del Humilladero, Plaza de San Andrés, and Plaza de Puerta Cerrada.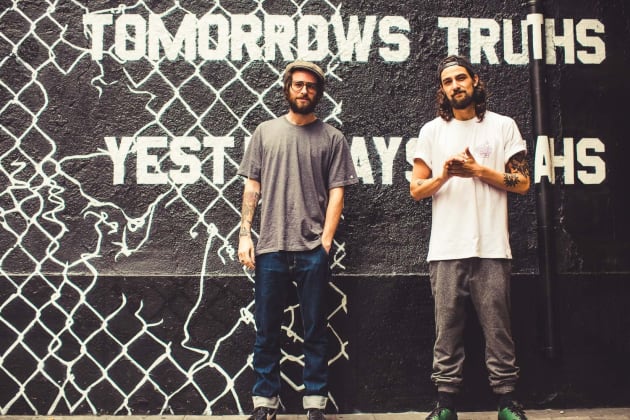 4. El Prado Museum
A trip to Madrid is not complete without a visit to this vast museum. Give yourself a few hours to thoroughly enjoy all the old and new art that is on offer from 10 am. The area is known as the avenue of the arts. Two other museums nearby are Thyssen-Bornemisza and Renia Sofia. I usually visit museums in the middle of the day when the sunlight is harshest. It also gives me a break from shooting as photography is not usually allowed. Art for me has always been an endless source of inspiration.  
5. El Retiro Park & Gran Via
The opulent few regularly stroll through this park. Locals ranging from dog walkers to joggers come here to relax. This location can be a welcome break from car pollution and heavy traffic. A must see destination in the park is the Palacio de Cristal glass pavilion. Keep in mind that the park is 350 acres and you might get lost!
Another point of interest is the iconic Metropolis building which is on the corner of Calle De Alcala and Gran Via. It's a great spot to set up for a night shot with car lights and lovely architecture. You will find equally impressive architecture anywhere along Gran Via. Any suggestions on other locations are more than welcome in the comments.  
Alfonso Calero takes photography tours around the world. You can see more of Alfonso's photography on his website here.