Behind the Lens: With Drew Hopper in Jodhpur
Sometimes the best images come to you. Pro photographer Drew Hopper explains how he captured this striking image from the back of a taxi in Jodphur, India.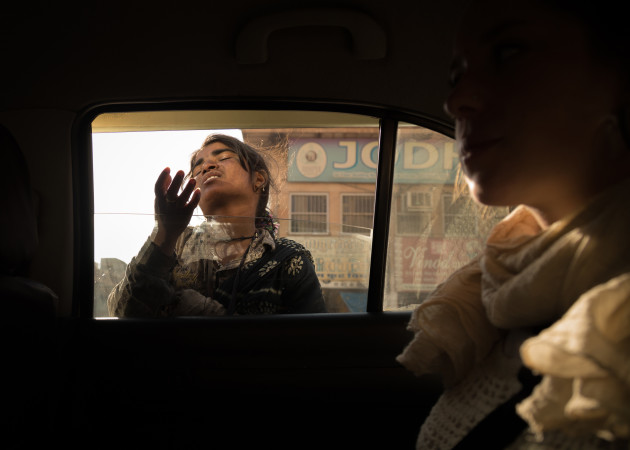 Homelessness in India has been a problem for centuries. With few alternatives, many people turn to a life of begging on the streets. During my two-month visit to India I had no intention of documenting or photographing the homeless, however I found it everywhere and often it was impossible to avoid. I remember feeling somewhat ashamed and uncomfortable taking this photograph from the backseat of a taxi in Jodhpur, Rajasthan. I was inclined to document the situation with my camera and try to convey a sense of desperation behind the fleeting moment.

As a travel photographer I'm constantly fascinated by the daily life of other people and how people interact with each another. It was this interest that steered me to shoot this image of a young Indian girl begging through the taxi window. We had just stopped at the traffic lights when the girl advanced across the street straight to the taxi window, presumably after seeing two foreigners (myself and my girlfriend) in the backseat, then proceeded to tap on the window. My girlfriend (in the foreground) ignored her, as our driver specifically said not to make eye contact. The young girl continued to plead and hang onto the car demanding money. She kept repeating, "I'm hungry, money money," It wasn't until the traffic light turned green and we drove off that she turned away. After taking her picture I did feel a bit guilty for not giving her any money, but I'd prefer not to worsen the begging situation any more than it already is.

Shooting with the Canon 6D with the 16-35mm f/2.8, enabled me to capture a wide perspective, and shooting wide allowed me to fill the frame with my girlfriend in the foreground and create negative space around the car window. Ideally, I would have preferred to shoot this on my Fuji X100S with the aid of the silent electronic shutter, however I did switch to Canon's silent shutter to be more discreet. By holding the camera on my lap and shooting from the hip, it helped me remain somewhat inconspicuous without having the girl notice I was taking her picture. I covered the camera with my scarf and fired half a dozen shots without chimping (reviewing) the images.

Discretion and the ability to go unseen is a powerful thing when shooting candid and fleeting moments like this. Whenever I'm travelling I always keep my camera within reach because I never know what may transpire into a photo opportunity.