Who won our July 'Symmetry' photo comp?
Huge congratulations to Brett Watson who has won our July 'Symmetry' photo competition with his striking image 'The L', as judged by guest photographer David Lazar.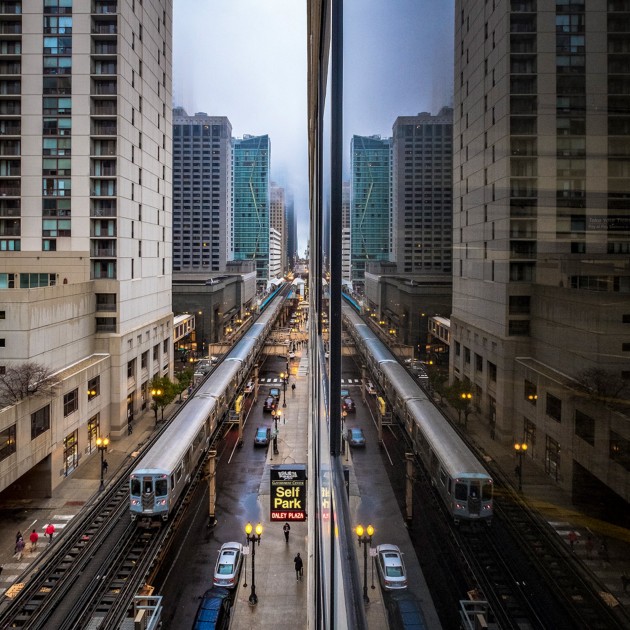 I chose this photo of the train and city reflected in the window to be the winner, as it does a great job capturing near true symmetry, which is essential being the theme of the competition. It is truly balanced, and is the perfect crop for this scene where the centre line really is in the centre. I like the sign on the left half which breaks the symmetry ever so slightly, and it is always an effective technique when one tiny aspect is a little bit off, symmetrically speaking, but it remains very important that the symmetry is not broken too much.

I think this is a great composition with the end of the train in a lower third point, and the rest of the train creating a nice line seemingly coming out of the centre of the image. The buildings achieve a similar effect in the top half. The blue tinged cloud or fog in the sky balances nicely with the yellow lighting in the foreground, and these two key colours are complementary and another reason for the success of this image. Well done to the photographer of this creative and visually captivating image!
Over on Facebook, the People's Choice award went to Wendy Klein's image, 'Symmetry', which picked up 243 likes.
Thanks to the good people at NiSi, Brett has won a NiSi V5 Pro Filter Holder valued at $299 + a NiSi P1 kit Valued at $59, and Wendy has won a 12 month digital subscription to either AP or Capture mag.
You can see the full list of shortlisted images over on our Facebook page, and if you fancy entering our August comp, the theme is 'Blue' – enter here.