Have you ever looked at an amazing landscape image and wondered how the photographer came to find themselves in that location? As pro landscape shooters Marianne Lim and Dylan Toh explain, being in the right place at the right time is much more about good planning than good luck. They share six essential tips to help you find the places that offer the most photographic potential.
There's something exciting about opening a present you've been given. You don't usually know what's inside, and as you unwrap it, revealing bit by bit what it might be, you secretly hope that it's going to be something awesome. I get the same feeling when I arrive at a photographic location I've been wanting to capture. When I explore the area, it's akin to unwrapping a present, finding out what treasures might be revealed. However, unlike a present, I have some degree of control over what to expect at my location, based on prior research and preparation. Of course, once I'm there I'm at the mercy of the environment, but to some extent you can prepare for Mother Nature's moods.
How you go about doing your research for a location is a personal thing. Some people are very thorough, making notes on everything from where to park the car to how long it takes to walk to a certain spot, whereas for others it's enough for them to simply know what it looks like. In either case it's probable that you'll do a Google search on the subject, at the very least.
My partner Dylan Toh and I tend to be fairly thorough when we do our research. This may in part be due to the fact that we generally travel with our two young children (a 4 year old and a 20-month old), and it definitely helps to know how long it might take to walk to a waterfall, just so I can pack the corresponding amount of snacks to prevent any hunger-related meltdowns! It also helps with fleshing out an itinerary of our trip, which in turn allows us to be somewhat flexible with the locations if the weather (or a child) is not cooperating. Here are our ideas on how to gather information for your next photographic adventure, garnered from personal experience.

Metlako Falls, Oregon, USA. Visiting during the fall (autumn) season really adds something else to this image. The orange and yellow leaves provide great contrast against the darker background and greenery. Dylan met up with local photographer Tula Top for this hike to both Metlako and Punchbowl Falls, with Tula providing expertise and knowledge of the area. Canon EOS 5D Mk III, Canon 70-200mm f2/8 L lens @ 102mm, 3.2s @ f/16, ISO 100, circular polariser and tripod used. Contrast and colour adjustments in Photoshop CC. Image by Dylan Toh.
01 Conduct an image search
With the vast number of image-sharing sites on the internet it should be no problem to simply head to your favourite site and type in your location to bring up photos others have already taken. If you're on a site like 500px, you'll probably find a lot of inspirational images to fuel your motivation. You can probably garner information from the metadata and title and/or caption of the image too, which will give you more of an idea on how and possibly when the image was made. This can be important if you're heading to seasonal places, where the time of year can have a significant impact on how your image will look.
If you've simply Googled a location, you might find that a large percentage of the resulting shots are from tourists and might not look as stunning as you'd hope. Or, it might be a little-known area and there might not be many images at all. The skill here is to learn how to see the potential in what photos there are. Another benefit of conducting an image search is that you're also able to see what compositions have already been made of the subject, and you therefore have a choice to either try and replicate it, or try to create a unique take on it.
Just a note on using photographically dedicated sites such as (but not limited to) 500px – photos should be viewed judiciously as some of these images may have undergone significant manipulation. This may not always be evident if information on how the image was captured and/or processed is not disclosed. Thus a subsequent Google search may provide an objective point of view on what to expect at the location, in particular when viewing tourist snapshots, as these tend to be unedited.

Moeraki Boulders, New Zealand. The sun was rising behind a bank of clouds, which meant that I wasn't going to get a sunstar on the horizon, but it illuminated a less dense patch of clouds above. As the water receded, there was a small opportunity to capture the reflections on the beach before the next wave. Canon EOS 5D Mk III, 16-35mm lens @ 16mm, 0.4s @ f/16, ISO 50, GND and tripod used. Colour and contrast adjustments in Photoshop CC. Image by Marianne Lim.
02 Use guide books and photobooks
Guide books (for example, the Lonely Planet series) don't generally have a lot of magnificent-looking photos, but they have a wealth of other information that might be useful. One thing they do well is to compile the information by regions, so if you're not familiar with an area you can simply look up a section in the guidebook and it will have listings of attractions for a given locale. If you combine photography with other interests (as Dylan combines hiking and photography!), guide books sometimes can provide information on things like where to obtain tickets and how much they cost, accommodation options, websites where you can get additional information, and at times even contact phone numbers.
Photography books, on the other hand, are more of an inspirational source. You can gather ideas on how you might shoot your subjects, find out what you might see in a particular area, write down names of the places you want to visit based on the photos you like (and can use later in an image search), or even the names of the photographers who have taken the pictures. A search on the photographer could reveal even more superb galleries to browse through.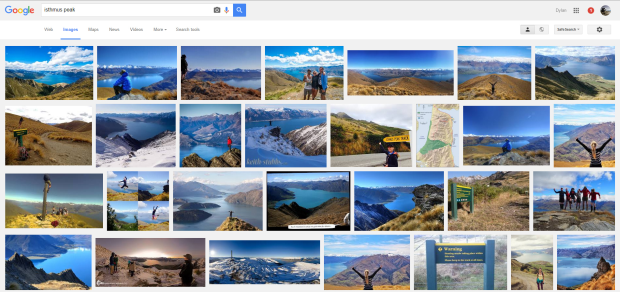 A recent search on Google resulted in these images of Isthmus Peak. Dylan used the results to check out the area.
03 Follow local news
In general travel terms, local news is significant because it could have an impact on your plans. It may help to know about any industrial strikes that are happening, or if there is political unrest or civil disorder which could pose a threat to your safety. In terms of photographic information, it could offer great opportunities at the time you're visiting. Imagine you find out about a volcanic eruption in Iceland, and you're flying there tomorrow! You would most certainly be rearranging your plans to give yourself every chance of capturing what could be a once-in-a-lifetime event (or find yourself rearranging your schedule if all flights are cancelled). Either way, general knowledge is vital.

In the same vein, being aware of local customs or events that occur can also be beneficial. You might have planned some quiet photographic shooting at a certain place, only to find out that it is overwhelmed with tourist hordes for an event, or it's the school holidays and everyone has decided to go on a road trip!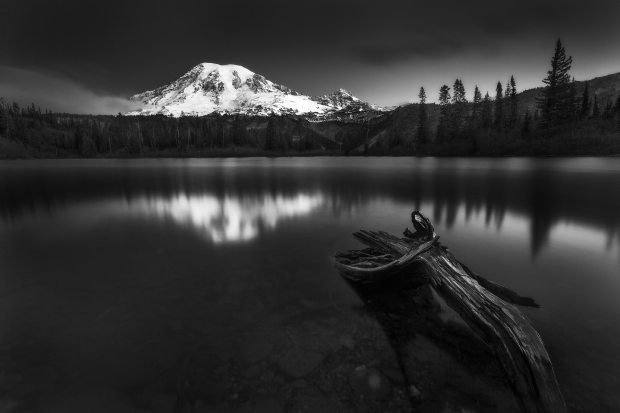 Mount Rainier, Washington, USA. When we first arrived in this US state our plans were to shoot in Mt. Rainier NP, but the park was closed due to political instability. We had a little bit of flexibility at the end of our trip, so we rearranged our plans to visit again. The weather was very mild and we didn't get much spectacular light, so Dylan took this image with a view to making it black and white. Canon EOS 5D Mk III, 16-35mm lens @ 17mm, 114.0s @ f/16, ISO 100, ND and tripod used. Exposure adjustments and conversion to black and white in Photoshop CC.
A great resource for locally based information is the official tourist website for a country, region, or location. These websites are often like a combined guidebook and photobook, and can be much more specific to your needs. Dylan has often used national park websites to plan his hikes and they are also excellent for organising family walks, as many will give a grade or rating on how easy or difficult the walks are. Other examples of local information we have used include checking for road closures when we were planning a self-drive holiday in Iceland, checking snowfalls on the official website of the Mount Hotham Alpine Resort in Victoria for a winter road trip, and obtaining other weather and aurora forecasts.
Don't miss Part 2 for more great tips on finding stunning landscape locations!