Opinion: Why now is the time to try medium format
Since medium format digital photography was introduced, the barrier to entry has been exceptionally high. For most, the cost of a new car is a little too much to spend on a camera body, and with cameras from Hasselblad and Phase One costing in the tens-of-thousands, very few ever had the chance to use them. They were really only available to those who could afford the hefty price tags or those whose budgets would allow for pricey rentals.
In recent years, that has changed.

Starting with the Pentax 645D and its successor the 645Z, access to the medium format sized sensor and extra megapixels was well within the reach of professional photographers and serious enthusiasts.
Now, we also have offerings from Hasselblad in the form of the X1D and Fujifilm in the form of the GFX 50S. Not only are their prices closer to professional level DSLR cameras, but their size and weight as well.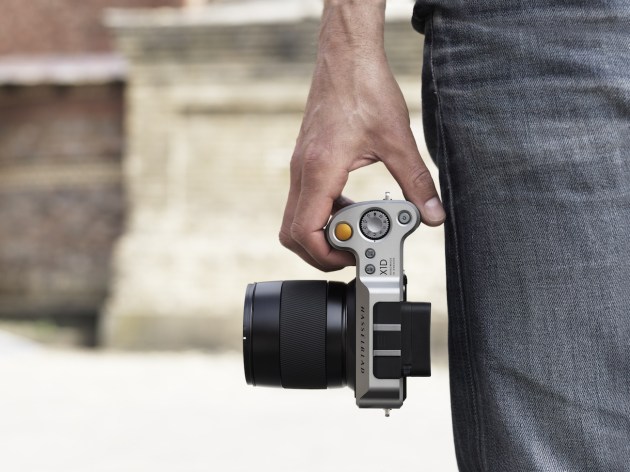 Now, the question is no longer about which kidney you can live without, but about whether or not you truly need a medium format system. After all, the best camera is the one you have with you and even modern smart phones do quite a good job. Just what is it that the larger sensor gets you?
First of all, let's take a quick look at where medium format came from. This should help us to understand part of it's status and use within the industry.
Bigger was Better
Back in film days, we had several commonly used sizes of film. These could be classified simply into small, medium, and large formats. 35mm and below (yes, your 'full frame' DSLR) were considered to be small format.

Larger sizes such as 6x4.5 and 6x7 were considered medium format. Finally, sizes such as 4x5" and 8x10" or larger were considered to be large format. The physically larger size of the film could be used to resolve more detail and thus make larger prints.
Digital photography, in some ways, subscribes to a similar pattern. However, with digital photography, the race has been to pack better performance and more resolution into smaller sensors. Smart phones now have infinitely higher resolution than the first digital cameras and produce much better colour as well.

The first 35mm full-frame DSLR, the 11.1 MP Canon EOS-1Ds, has been eclipsed by ever improving sensors such as the new Nikon D850 at 45.7 MP. ISO performance, dynamic range, and resolution have all increased in a sensor that has remained the same size.
Over that same time, the medium format sensor tried to take the place of medium and large format film for professional photography.
In some ways it succeeded. With its high price and comparatively sluggish performance, it was contained to a corner of the market that not only needed the additional resolution and dynamic range, but had the time to work with a trundling beast. Only those with budgets and a need for the absolute zenith of image quality were using medium format.


The technology has, of course, improved and become cheaper over time. Now it is available to all those who can afford of professional-level DSLR kit. So, should you be looking into getting one? Let's take a look at some of the considerations now.
The Quality of Image
A physically larger sensor allows for physically larger pixels. This offers multiple benefits in terms of the final image. Greater dynamic range and more detail are the ones most often talked about. Greater dynamic range means more detail in the highlights and shadows.

It also means smoother transitions between shades. Skin tones and subtle colour changes render more naturally on larger medium format sensors. Hasselblad is particularly famous for its natural rendering of colour and tone, and Phase One have recently introduced their Trichromatic back, promising colour closer to how the human eye sees.
Larger sensors also mean that a larger projected image circle (read. larger lenses) is required to cover the whole sensor area. Luckily, it is easier for manufacturers to build high quality lenses at a larger size. This means, all things being equal, medium format should produce more detailed images with less aberrations. Of course, just like any form of photography, this depends on the lens and the sensor being used.
Over the recent life-span of digital photography, the 35mm full frame sensor has, by far, received the most attention in the R&D departments of the major camera manufacturers. Sensors with higher signal-to-noise ratios are constantly being developed and lenses to make sure you get the most from your brand new sensor are never far behind.
Sensors like the one in the Nikon D850 necessitate extremely high-resolution glass in order to make the most of its capabilities, and Nikon has released a series of lenses capable of filling that market demand.
It is this attention to a more generous share of the market that has allowed such giant gains in image quality over the past few years. Thus, you will find that Nikon, Canon, or Sony's high-resolution offerings get you very close to technical medium format quality for a fraction of the cost. Then there is the aesthetic quality that the larger sensor delivers.
The Medium Format Look
This is another element of medium format photography that gets discussed and debated ad nauseam. The "feel" or "look" that medium format images give under the right conditions is a function of the larger recording medium (sensor or film). It comes from having a wider angle of view with the same shallow depth of field at a given focal length.

This leads to a rendering that may be more pleasing to some, or offer less visible distortion. Many medium format lenses also offer a more three-dimensional feel to their rendering, especially at wide apertures. Of course, the degree to which you will notice this is entirely dependent on the sensor and lens being used, and the situation it is used in.
Exposure Challenges
One of the things you may notice when looking at medium format lenses is the maximum aperture value. Many lenses will come with an f/4 maximum aperture and f/2.8 is considered fast. Although it still provides the same effective exposure as an f/2.8 lens on a 35mm sensor, the depth of field will be shallower.

For depth of field purposes, an f/2.8 medium format lens would be equivalent to f/2.2 when used on a crop medium format sensor like the one in the GFX 50S or the X1D and the equivalent of an f/1.8 when used on the full frame Hasselblad 100 MP sensor. However, you'll still only get f/2.8 worth of exposure value, so don't be expecting to shoot candle lit dinners with these medium format lenses. 
Where this becomes interesting for those who usually shoot on APS-C or 35mm sensors is when it comes to shooting hand-held or shooting with flash. You'll need a lot more light to get the same depth of field you're used to.

Let's say for example that I'm shooting a flash portrait in soft daylight with my Fujifilm X-T2, and APS-C sensor camera. My exposure is at ISO 200, 1/125, f/4.0. I'm happy with the way it looks and the depth of field is perfect for this shot. Now, I want to get that same shot on my Fujifilm GFX 50S.
I can get the same exposure by simply replicating those settings on the GFX, but maintaining the depth of field will require an aperture change. In this case, the required aperture will be approximately f/8. That is two full stops of light that I'm losing to get the same depth of field.

Now, remember that my aperture closing down is also going to affect the shutter speed. In order to get that same exposure from the ambient light, I'll have to go out to 1/30. This could introduce movement into my scene, which I may not want. Of course, I could also increase my ISO to 800 in order to achieve the same effect without decreasing my shutter speed, but I may not want the extra noise.
Will it Improve Your Photography?
That is a more complex question than it seems at first. It certainly will not directly improve the skills you have. It will simply show any flaws in your skills with much more detail. However, I would argue that a medium format camera has the potential to improve certain types of photography by forcing you to slow down and consider an image before pressing the shutter.
The combination of a slower and more methodical process with a less forgiving final product can help to push the photographer's work to a more refined place. That being said, don't expect your images to look like your heroes' just because of the camera. That's simply not going to happen.

Although we've just scratched the surface of medium format photography today, I hope this has given you a clearer idea of what it is and what it's capable of. As with anything, there are trade-offs for the benefits of medium format. Extra resolution and detail at the cost of a slower process and larger files, a certain look at the cost of additional exposure challenges, and then of course, the financial outlay.

That being said, the images possible with medium format are spectacular and there has never been a better time to take the plunge. ❂
Dylan Goldby is a photographer based in Seoul, Korea. See more of his work on his website and instagram. This story originally appeared in the December issue of Australian Photography.