Indian couple fired after photoshopping themselves climbing Everest
In September 2016, an Indian couple made international headlines after it was found that their photos "proving" they had reached the summit of Mount Everest had been faked using Photoshop. 

Dinesh and Tarakeshwari Rathod had claimed to be the first Indian couple ever to climb Everest.
The BBC has now reported that the Rathods were fired from their jobs in the Maharashtra police department this week after investigators concluded that the Rathods had "morphed photos" to fake their climb on May 23rd, 2016.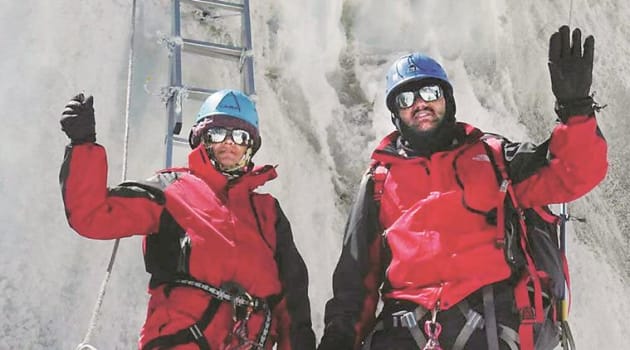 Police commissioner Sahebrao Patil told the PTI news agency the couple was fired because they "shared misleading information" and "brought disrepute to the Maharashtra Police department."

Despite the punishment, there's no word on whether the Rathods will face charges from Indian authorities for their actions.
That said it's not the first punishment he couple have received. Last year Nepal gave the Rathods a 10-year ban on mountaineering in the country after an inquiry found the climb to be faked. Nepalese climbing authorities had initially certified the climb as legitimate.
After their purported climb, the Rathods published photos supposedly taken at the summit. However, other climbers quickly came forward and claimed that the photos were actually theirs, with the Rathods 'shopped in over the top.
"I don't know whether the family summited or not," one climber, Satyarup Siddhanta, told The Daily Mail. "I was not there to see that. All I want is those pictures of mine should not be misused. Those pictures mean a lot to me."
The couple also made the mistake of showing themselves in different sets of climbing outfits. At the time, a number of veteran climbers pointed out that climbers would never change their climbing gear right before the summit push because of the difficulty and exhaustion it would cause.
An actual successful summit would likely have been lucrative for the Rathods, bringing fame for their "first couple" climb and money from speaking engagements and book deals.