Couple advertises wedding photography gig: makes it clear you won't get paid at all
Weddings are life changing moments that we never forget. The celebration and jubilation afforded by love and family should be remembered and cherished, with photography being a great way to do so.
But one couple's offer online has sent a shockwave of photographers rolling their eyes and shaking their heads. The post uploaded to the ChoosingBeggars subreddit by user KingSpanner is stinginess manifest.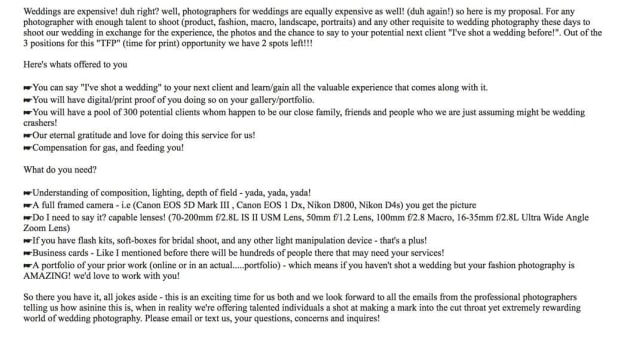 As well as offering photographers the ability to "say 'I've shot a wedding' to [their] next client" and being reimbursed with food and gas, the lucky recipient will have the couple's eternal love and gratitude.
"Weddings are expensive! duh right? Well, photographers for weddings are equally expensive as well! (duh again)".
Our caveat for the couple: you get what you pay for.