It's billed as one of the last great compact travel cameras. James Ostinga recently spent a few days with the Sony RX100M4 on a whirlwind trip around London.
At the end of 2012 the newly released Sony RX100 was making waves as a small camera that was producing unusually good images. Maybe not quite as good as a DSLR, but if you kept the ISO under 800 ISO you'd be hard pressed to pick the difference. For travellers, in particular, here was a camera you could not only fit in your jacket pocket, it was capable of producing some really good images. Also, it's small size meant you could use it without attracting too much attention.
Fast forward to 2015 and there have been three more versions of the RX100, the mark two, three and now, the newest, the mark four. The latest model is built around a 20.1-megapixel CMOS sensor and includes a really good pop-up electronic viewfinder. It's also capable of shooting still images continuously at 16fps and video at 4K in a choice of frame rates – 30, 25 and 24p. I've been using it for a few weeks now, and while it is definitely a better camera than the original RX100, it's not without its flaws. Here's my take on it.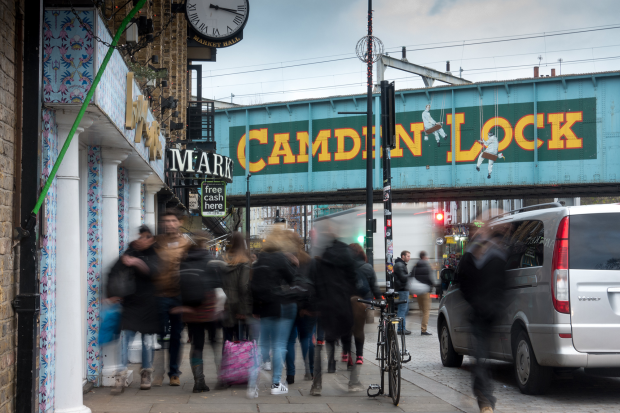 The RX100M4's built-in ND filter is great for shooting slow shutter speed images in bright conditions. Here, the ND filter allowed a half-second shutter speed to help capture the movement of passers by. Sony RX100M4 @ 24mm (equivalent), 1/2s @ f/11, ISO 80.
The good
It's small, light and discreet.
It takes amazing images, with great image quality, particularly at low ISOs.
In terms of image quality it's as good as any camera of this size and better than a few bigger models.
Built-in ND filter is a great idea.
Really good image stabilisation helps to keep the ISO inside the lower 'sweet spot' range.
The pop-up EVF viewfinder is great, particularly in bright sunshine.
There are good customisation options so you can set different buttons to control the features you use most – aperture on the lens ring, shutter speed on the rear thumb wheel, etc.
The bad
The menu system is really complicated. Perhaps it's the trade-off for having a compact camera that can do so much, but I can't help wondering if the menu could be better organised. You get the feeling Sony has been busy adding new features to this camera, and its predecessors, without paying a lot of attention to the way it will be used. The Fn button takes you to most of the commonly used commands but if you need anything else, take a deep breath and try to stay calm. It took me 10 minutes to work out how to format the SD card and longer to pair the phone using Sony's 'easy' QR-code connection process! I'm told that pairing is easier if your phone has NFC – mine doesn't. That said, if it was a camera you owned you'd eventually get used to it.
Some features are only available if you buy and download a dedicated app. For example, if you want to shoot a time-lapse video the app for that will set you back $9.99. Not much in the scheme of things but it is annoying for a camera that retails for more than $1000. It's especially annoying when time-lapse, as just one example, is a stock feature on many mobile phones.

Even by DSLR standards, the detail from this compact camera is excellent. Sony RX100M4 @ 24mm (equivalent), 1/3200s @ f/2.8, ISO 125. (Lower image cropped from larger top image).
Specifications:
Price: $1399 RRP
Sensor type: CMOS
Sensor size: 1-inch
(13.2 x 8.8mm)
Resolution: 20.1 megapixels
Lens: 3x optical zoom, 24-70mm (equivalent)
LCD: 3 inches (diagonal), 1,228,800 dots, tilting
Touch screen: No
Viewfinder: Electronic, 2,359,296 dots
Video resolution: 4K (3840 x 2160 pixels), 30p, 25p, 24p
Video format: MPEG-4,
AVCHD, XAVC S
Microphone: Stereo
Storage: SDXC, SDHC, SD, Memory Stick Pro
Connectivity: USB 2.0,
micro-HDMI
Wireless: 802.11b/g/n with NFC
Remote: Yes (wired or via smartphone)
Dimensions: 102 x 58 x 41mm