Boat Show Photo Comp: Winner and shortlist announced
A dramatic shot of two young dinghy sailors caught in a torrential downpour in Sydney has won the 2017 Boat Show Photo Competition.
The photo, by Karen Taylor, was taken during between Junior Optimist races at Pittwater, NSW.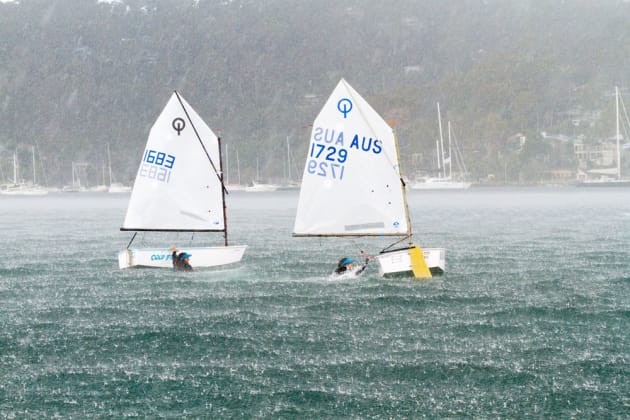 "The kids were milling about between races when a front passed over and the rain absolutely bucketed down," says Taylor. "My daughter Bayley and her friend Bella decided to jump off their boats and go for a swim since they were completely saturated anyway. I was on the start-finish boat taking photos and managed to capture the moment,"
With more than 1,100 images entered into the competition choosing the winner of the 2017 Boat Show Photo Competition was never going to be easy.
In the end the judges, professional sailing photographer Andrea Francolini and Australian Photography publisher James Ostinga, selected Taylor's image for its originality, design, composition and timing.
"This image struck me because of the water pattern. I love rain on water – then I saw that the two kids were in the water," said judge and professional yachting photographer Andrea Francolini.
"I laughed because being a yachting photographer my rule is, 'always have a boat between you and the water and you will have a good day.' In this instance there is water from below, above and probably side on. The fact the kids are still having a ball makes the images very amusing. They just don't care. Great spirit in this image, love the texture of the water editing could be improved but the important part is to capture the image. Then you can go home and work on it."
"Well done on quick thinking because pulling out your camera in those conditions is not an easy task and it is very risky," he said.
Karen Taylor has won a Hobie Quest 11 kayak valued at $1675.
Thanks to everyone who entered. and a special congratulations to all those photographers who made the shortlist, published below.