Shooting a portrait of someone in their natural environment is a good way to reveal more about their personality than is possible in a studio portrait. Travel and landscape photographer Drew Hopper talks about some of the challenges of environmental portraiture and shares seven useful tips to help you shoot more powerful images.
Shooting a portrait of someone in their home, workplace or where they like to be, as opposed to a studio, introduces a range of options for telling that person's story. An environmental portrait, apart from recording the person's likeness, gives us an insight into their daily life; who they are, what they do and where the are from.
While there are challenges in photographing people on their turf, not yours, they're far outweighed by the advantages. Apart from the opportunity to reveal more about the sitter, at the very least, people are usually more relaxed and comfortable on their home ground – and that fact alone should make for better and stronger images.
Ready to give it a go? Here are seven tips I've compiled from my own experience to help you shoot better environmental portraits.

Traditional fisherman with conical net on Inle Lake, Myanmar. As he sat in his boat, rowing with his foot, I shot through the fishing basket for an interesting perspective. Canon EOS 6D, 16-35mm lens @ 16mm, 1/125s @ f/8, ISO 400, handheld. Highlight recovery for sky, curves, saturation and sharpening in Photoshop CC.
01 Plan ahead
The first thing I do before every photo trip is decide what I want to see and the type of photos I intend to capture. On a recent trip to Myanmar, I was inspired by the culture so I wanted to capture pictures of local people and the culture, both staged naturally and candidly. I spent countless hours researching online to make sure it would be a successful trip. Determine the style of the shoot, the purpose and the mood you plan on conveying. Do you need an assistant or fixer to help translate if you're working in a foreign country? Are you shooting indoors or outdoors? Do you need location permits or a model release if you plan on selling the images commercially? These are just a few questions to think about before picking up your camera.
02 Location is everything
Finding the perfect location can be challenging, but it's the key to capturing environmental portraits. It's a good idea to scout the area for the right place to depict your subject. Persevere until you find the right location and it will definitely result in stronger images. Meet with your subject beforehand and get to know them. Perhaps they have a place where they feel relaxed. As an example, people often feel comfortable at their homes, which strengthen the chances of capturing natural facial expressions and body language. Some people might not feel comfortable inviting a stranger into their safe place, so be respectful if you're invited into their home. Allowing your talent to choose the location can be extremely beneficial when you're working in a new or unfamiliar territory and it can save a lot of time. Background detail is imperative in adding a sense of place and defining the character of your subject. However, be mindful when composing your shots so that the background doesn't detract from the presence of your subject. The focus should be on your subject.

Rice farmer and his cow close to the border of Chin State, Myanmar. The lighting was harsh but I was able to recover shadow detail by underexposing and adjusting the shadow/fill in Lightroom. Canon EOS 6D, 35mm f/1.4 lens @ 35mm, 1/400s @ f/6.3, ISO 200, handheld.
03 Communicate
An essential part of photographing people is communication and interpreting what you wish to achieve. If working in a foreign country you may not speak the language, this makes things trickier. The best way around this is to use a location fixer or someone local who speaks the native language who can translate for you. Fixers can also sort out shooting permits for special locations while liaising with local authorities to make things run smoothly during the shoot.
In some countries people enjoy being photographed. Myanmar is a great example of this. It is much easier to approach people if they are open to having their picture taken and it offers an excellent opportunity to meet new people. By talking with them you'll find the confidence to approach strangers and take their photos, whether staged or impromptu. If there is a language barrier, simply point to your camera and smile. Most people already know what you want once they see a camera. However, if they refuse to have their picture taken, respect their wishes and move on. Always remember to smile and always say thank you. Be polite and project positivity when you work; people tend to take on your energy so be that radiating photographer everyone wants to know.

Novice monk reciting passages inside a remote temple in Bagan, Myanmar. By burning incense I was able to create a more dramatic mood with the sunlight coming through the window behind. Canon EOS 6D, 16-35mm lens @ 24mm, 1/50s @ f/4, ISO 640, handheld. Curves, contrast, levels and noise reduction in Photoshop CC.
Posing your subject and capturing natural body language takes some work, but with good perception and practice this can be an enjoyable experience for both you and your model. It's vital they feel relaxed, as any awkwardness will be evident in the pictures. Again, communication is an essential part of this process. Ask them how they feel and never push them to pose in a way they are not confident about.

Most people feel at ease when they're sitting or have something to lean against – a wall or doorframe might be a good starting point. Have your subject sit in their environment, but not necessarily looking at the camera. Ask them to look into the distance, or get them to focus on something. As an example, if you're shooting someone in their workplace, ask them to continue with their daily routine. Remember you are trying to capture their personality, so step back and observe before directing. If you are shooting candidly there is no need to pose. Anticipation is key, wait for the right moment to take your shot.
When shooting closer more intimate portraits it's best to approach your subject with humility, respect and a "light footprint". This means working respectfully with your subject and their environment. Never physically handle your subject, especially if you're a male photographing a female. Politely explain the pose or demonstrate it and then have your model reposition. It's about gaining each other's trust, which takes time.
04 Add drama
Working under natural light is a great way to add drama to your pictures for moody portraits full of character. It's also a fantastic way to better understand the importance of light and how to effectively use it. If you're new to photography, you don't want to complicate matters by adding multiple Speedlite flash units. Instead go out with your camera and observe your environment, study the light and take notice of how different lighting changes the mood of the environment you are in.

Photographing elderly people in low light is a fantastic way to exaggerate their facial expressions, lines and wrinkles to create a dramatic portrait. One of my favourite approaches to low-light portraits is finding a dark space with areas of light which highlight parts of the scene. An example could be an open doorway into a dark room. Position your model in the light against the dark area. Notice how the light highlights your subject and the background is dark and free of distractions? Keep an eye on the light and try shooting from different angles, or reposition your model to stand half in the shadow and half in the light to create deep contrasts. This is the easiest way to manipulate natural light for a more dramatic feel. Experiment with natural light, you'll be surprised how effective it can be.
Another way to enhance the atmosphere of your portraits is by adding smoke. Your model could be smoking a cigarette and exhaling smoke into the air, or there might be burning incense. Darker backgrounds work best for smoke, as it is typically light so a brighter background won't have the same impact. Use a shallow depth of field to draw the focus on the smoke to create a subtle illusion of depth. Candlelight is another natural light source to create ambience, but be aware of the risks if you're working with fire and hot wax.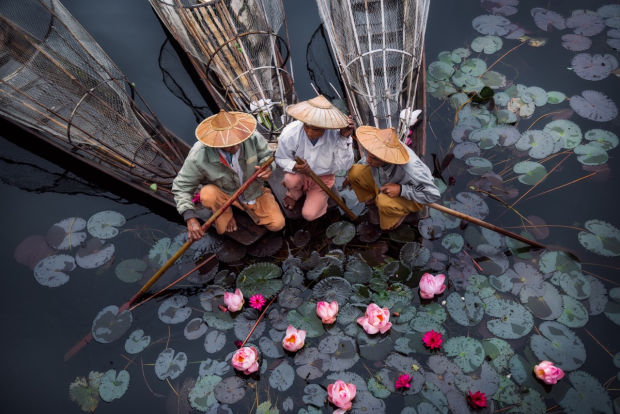 Three traditional fishermen pose by lotus flowers on Inle Lake, Myanmar. By finding a higher vantage point I was able to shoot an interesting composition with the lotus. Canon EOS 6D, 16-35mm lens @ 35mm, 1/100s @ f/4, ISO 250, handheld. Curves, contrast, colour balance and sharpening in Photoshop CC.
05 Consider post processing
Cameras have their limitations where they can't capture the entire tonal range of some more challenging lighting situations. Shooting during the middle of the day when the light is harsh can cause an unflattering loss of shadow detail. If your subject is backlit, half in shade, or wearing a hat, you'll notice this problem. Asking your subject to move, or waiting for the light to become favourable isn't always an option, so it's good practice to shoot with post-processing in mind. Underexposing or overexposing elements in a scene allows you the freedom to recover lost details in your editing software by adjusting the shadow/fill depending on the situation. Exposing for someone's face when the light is harsh may result in an extremely over-exposed sky. In this case it's likely the highlights would be unrecoverable, so expose for the highlights and tweak the shadows in post. If this increases digital noise (grain) you can reduce this with some noise reduction in post production.
06 Increase ISO
A common photographic fear that I've noticed amongst some photographers is a fear about increasing the ISO setting on their cameras. Most photographers know about the advice to use the lowest ISO possible. There is good reason to shoot using lower ISOs, as image quality is at its maximum compared to shooting with a higher ISO. However, camera technology has improved a lot since the first DSLR was released and most modern DSLRs are capable of shooting very good images at higher ISOs (1600–3200 or greater). Increasing the ISO enables you to shoot at faster shutter speeds and smaller apertures, which can be extremely useful when shooting portraits in low-light conditions – without the need for a tripod or flash. A high ISO rating combined with a fast prime lens opens up a whole new world of experimentation and this is often when the best light happens. If noise is evident then you may need to adjust your settings, but you can also remove digital noise in post-processing, so go explore and see what you find!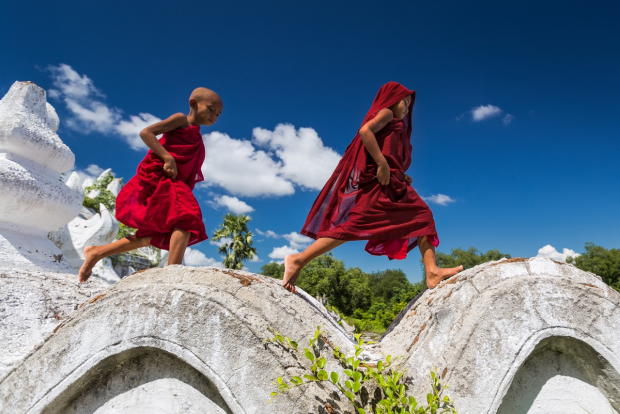 Two novice monks run across a pagoda in Mingun, Myanmar. As these monks are just young boys I wanted to convey a sense of playfulness and happiness. Canon EOS 6D, 16-35mm @ 18mm, 1/500s @ f/4, ISO 125, handheld. Saturation, contrast, levels and sharpening in Photoshop CC.
07 Get model releases
Basically, a model release is a contract. It's a written and signed agreement between the photographer and the model. The purpose of obtaining a release is to protect the photographer from future liability. Every photo you intend to sell which features a recognisable person should be accompanied by a release unless it's being used for certain reportage or documentary purposes. The document imposes the terms and conditions upon which one party may use images taken of another party. In short, it's an essential part of being a portrait photographer if you want to use images commercially.
There are a number of phone apps which allow you to electronically draft legally binding model releases in a few seconds. All you need is a smart phone or iPad and a good app. I have been using the app by 500px called 'Releases', which lets me save model and location information. Once you've filled in the blank fields all you need is your model's signature, which he or she can sign with the ease of the touch screen using their finger and you can save it as a PDF to print, file or export elsewhere. This certainly saves a lot of time doing paperwork! ❂