Tested: DJI Osmo
Every so often a new piece of technology comes along that has the potential to be a real game-changer. Mike O'Connor checks out the DJI Osmo hand-held gimbal to see if drone technology still flies at ground level.
As much as I love testing out the latest camera and photography gear, I wouldn't be the first reviewer to admit it can be a challenge to find something different to say with tech reviews. Camera technology moves largely in an iterative fashion, say an improved sensor, a faster drive speed or a better electronic viewfinder. Rarely does a product make me want to stop everything to go make a short film clip for Facebook, or even just wander around the office filming 'stuff'. It has to be something different, something that throws the camera and video rule-book right out the window.

What I'm talking about is the DJI Osmo, a hand-held and three-axis gimbal featuring a stabilised 4K video camera, all wrapped up in a package that weights a mere 538 grams. If you're familiar with the DJI drones like the Phantom 3 and 4, or the Inspire 1, imagine the on-board camera mounted on a handle, with the same image stabilisation from the drones, and you're there.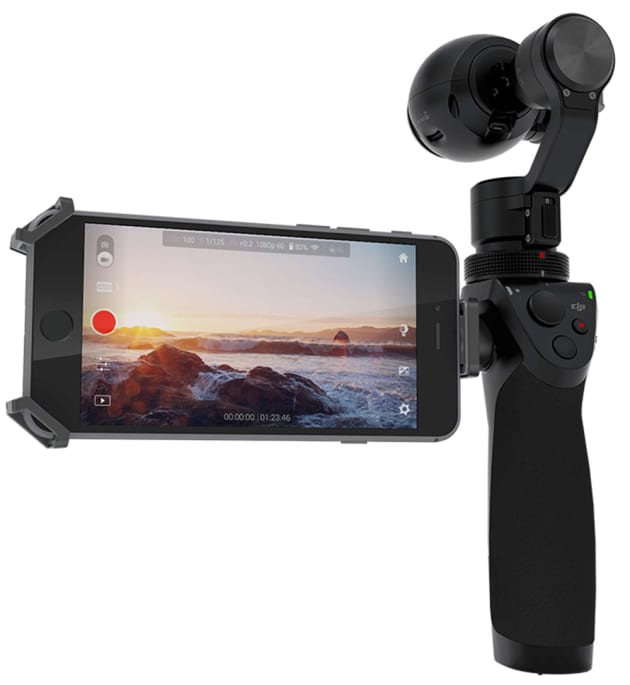 Off the shelf, the Osmo package is made up of four parts: the aforementioned Zenmuse X3 gimbal which features a Sony 12-megapixel sensor, capturing video and stills with a fixed 20mm f/2.8 lens, an ergonomic handle with control buttons housing a stereo microphone and audio jack, a battery and a padded phone clamp. The package also includes a lens cap and a wrist strap in case you drop your Osmo, as well as a funky carrying case that will have everyone wondering if you've taken up the ukelele.

This is the basic package, but you can buy other attachments, the most useful of which is probably the adaptor that lets you run the newer (and improved) X5 and X5R gimbals. For the sake of this review we focussed on the included X3, but did use the X5R with great results, especially in low-light.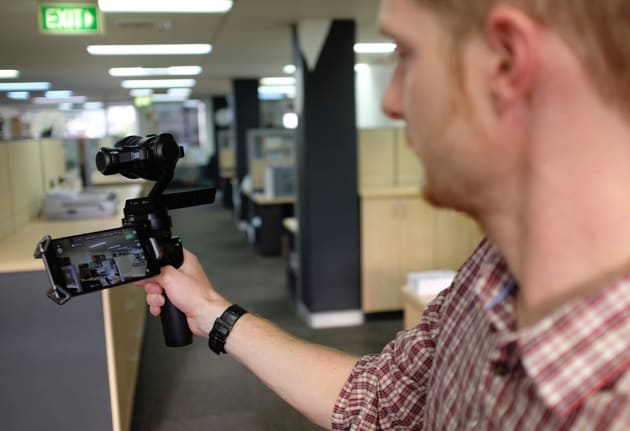 The Osmo manages to keep its weight (and price) low by making you supply your own monitor – a smartphone. We tried it with a variety, including an iPhone 6s and a Huawei P9, and the padded clamp accommodated them easily. Once your phone is in place, set-up is straightforward. Download the DJI app, turn on the Osmo, connect it your phone's Wi-Fi and you're away. You can change all the major video settings like ISO, video quality and shutter speed with the touchscreen. There's relatively little lag and we found the app easy to use and the screen well laid out. For moving the camera around, you use the controls built into the handle. It's designed to be used one-handed, and has some nice easter egg features too. Double tap the trigger and the gimbal resets on it's axis, press it three times and it turns to face you for a selfie.

Speaking of video, the Osmo lets you shoot 4K, 4,096 x 2,160 at 24fps or 3,840 x 2,160 at 30fps/24fps. If you want a smoother video you can go up to 60fps at either 1080p or 720p, or even do slow motion with 120fps at 1080p. You can shoot stills as well with a quick press of a dedicated button on the handle.

The three axis gimbal translates movement smoothly. Walking along with the Osmo your footsteps are barely noticeable, and although there's a little bit of bob, it's no more than you would expect with a steadicam. Panning around a subject is generally quite smooth, but is slightly hobbled by the relatively long minimum focus distance of 1.5 metres. I didn't find this too much of a problem, but close-ups may appear a touch softer. It's worth being aware of.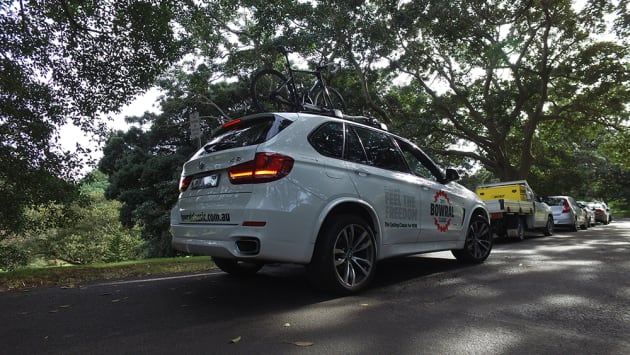 The biggest negative with the Osmo is the battery life, which is pretty poor. We found it lasted about 45 minutes from fully charged, so make sure if its your main rig you pack a few extra batteries, although we're told a software update has now extended the battery life. In low-light the footage did show some noise, and the onboard audio is pretty weak. It's not helped by the relatively noisy fan built into the gimbal, but most videographers would steer well clear of onboard audio anyway.

So who's the Osmo for? It's probably not suited to people wanting to mix up their home movies with a bit of steadicam footage – the onboard audio and lack of a zoom lens puts paid to that. But for small film crews or run-and-gun video production companies the Osmo is brilliant, and if you're lucky enough to own an Inspire 1, you'll be pleased to know the onboard gimbal can attach to the Osmo handle with an attachment.

What I liked best about the Osmo is it's fun and easy to use and puts steadicam-like results in the hands of the everyday user. At a relatively reasonable RRP of $1,099, the Osmo is a capable tool that is perfect as an additional camera on set, especially so if you use dedicated audio. We're planning to invest in one for the fledgling Australian Photography video production team - we couldn't give it higher praise than that. ❂


RESULTS
HANDLING ★ ★ ★ ★ 
Looking a bit like an eyeball on a stick, the Osmo is designed to be used one-handed. It's comfortable to hold, and doesn't feel too heavy. All the major controls are in easy reach and most importantly it's easy to use.  
FEATURES ★ ★ ★ ★
4K video at 24fps or super smooth slow motion 1080p at 120fps. The Osmo has on-board audio, but we'd recommend you avoid relying on this unless you really have too.
EXPOSURE ★ ★ ★ ★
Auto exposure is ok, and is generally reliable. DJI make an ND filter which is useful if you plan to shoot in bright daylight wide open.
IMAGE QUALITY ★ ★ ★ ★
Good, although the sensor in the X3 gimbal is challenged by low-light. Work within it's limitations and you'll get great quality video that looks like it's shot on something costing much more.

VALUE FOR MONEY ★ ★ ★ ★ ★
Very good, although the X3 gimbal has been bettered by the X5 interchangeable lens series. If you have the money and plan to use it as a serious video rig, it might be worth upgrading at purchase time.

FINAL WORD 8/10
The DJI Osmo is a fun piece of kit that is a worthy addition to any budding film-makers bag. Like most first generation products it does have some weaknesses, but these are outweighed by its sheer usability and great looking video. We recommend it highly.