Video: This new underwater drone can dive to 150m deep
For drone enthusiasts tired of conquering the skies, a new drone means the ocean is now no longer the final frontier.
Looking like a cross between a projector and a deskfan, Drone company Blueye Robotics have announced a drone that can dive eight times deeper than the average scuba enthusiast -- up to 150 meters.

Sporting capabilites previously found only in professional equipment, the Blueye Pioneer weighs in at a 'compact' 6.8kg and with its three thrusters, can travel at a speed of 2.5 meters/second (5 knots).
Blueye Pioneer's HD wide-angle video camera uses special technologies that work in low-light conditions and can communicate true-color images, overcoming the problem of how colors change below 16 feet underwater.
"Red colors start to fade, and the undersea world becomes green or blue," explained Christine Spiten, Co-founder and Strategy Director of Blueye Robotics." A custom algorithm was developed to add color back in to photos and video captured by the Pioneer."
The live video transmitted by Blueye Pioneer travels through a thin cable to a surface buoy and then wirelessly to the user, who can pilot the drone dry and safe on a nearby vessel or onshore.

The robot has powerful LED lights below the camera, as well as fittings for an extra payload, with replaceable batteries that can last at least two hours. The Pioneer can be operated from a smartphone, tablet or PC.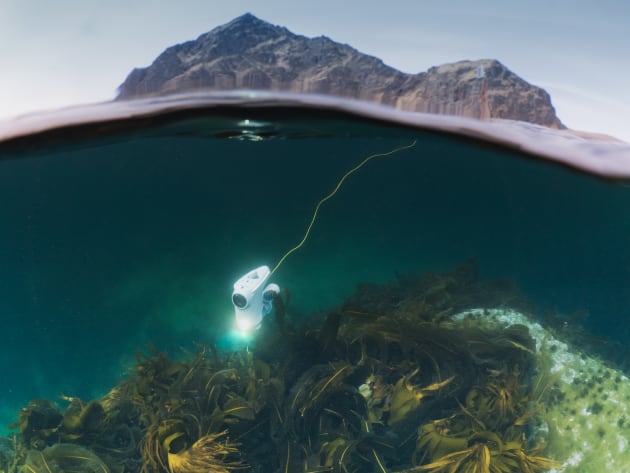 At US$3,500, Blueye Pioneer is relatively competitive for a professional-grade system. Currently in beta, it will be in production beginning January 2018.
You can find out more about the Blueye Pioneer here.