Review: DJI Mavic Air
I'll be the first to admit that when DJI announced the Mavic Air in late January I was a bit surprised. I'd been expecting an update to 2016's Mavic Pro, which has been a popular drone here at Australian Photography.
We're still big fans of the Pro's compact size and great imaging capabilities, especially now when they can be picked up relatively cheaply. By comparison, the Spark was just a little too dinky for our tastes and the Phantom Pro, although capable of producing great images, didn't have the portability of its siblings.

Yet its not until you get the Mavic Air in your hand that you realise just how remarkable it is. Up until now there was always a tradeoff with consumer drones: If you wanted a good camera, you needed a big drone. And if you wanted a small drone, you needed to accept a basic camera along with it. None of these apply to DJI's latest creation.
The camera
Behind that tiny 24mm camera lens is a three-axis gimbal with a 12MP, 1/2.3" sensor. The wide-angle, non-fisheye lens is sharp corner to corner and offers an 85 degree field of view. There's a fixed f/2.8 aperture, and a gimbal that can rotate from 90 degrees (for a birds eye view) up to 22 degrees (looking upwards).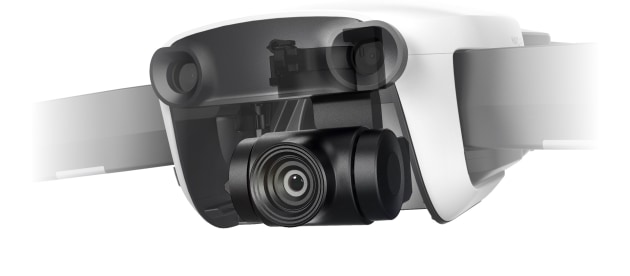 Unfortunately that fixed f/2.8 aperture doesn't give you the flexibility to change the focal plane as you can with the Mavic Pro or Phantom Pro, and, just like I discovered with the Mavic Pro, the lens is susceptible to flare when shooting with the sun in your frame. If you like that look you might not be too bothered by this however.

When it comes to stills, you can choose to shoot in RAW DNG or JPEG, but it is the other shooting features that are really interesting. There's single shot and burst mode, which allows you to shoot three, five or seven shots in sequence, and timed mode, allowing you to set intervals anywhere from two to sixty seconds for timelapses.

The Mavic Air also offers the ability to shoot a number of different automated shot styles. These include both vertical and horizontal panoramas, 180 degree shots and even full 360 degree images automatically. I was pretty impressed with the sphere mode, which can be triggered with just a single click. This creates one of those funky 360 degree 'tiny world' images you can move around. Unfortunately the Mavic Air can only produce the images, you'll need to stack them yourself in post.

When it comes to low light performance, amazingly I found better performance with the Mavic Air than the Mavic Pro. Images are usable right up to ISO 3200, and the dynamic range is particularly impressive, streets ahead of the Spark and even nudging the Phantom Pro in regards to detail. I found banding only became an issue above ISO 3200, and noise is well controlled at lower ISOs.
In terms of video, the Air shares the same 100mbps bitrate video as the Phantom Pro, impressive for a drone of this size as a high bitrate is critical for good video performance. This means 4K 100mbps at 30fps and Full HD at 120fps for super slow mo. All the standard output formats (MOV, MPEG-4, MP4) are supported, along with picture styles like D-Log and D-Cinelike.

Some Mavic Air users have complained about the rotor blades appearing in frame at some angles, which appears as banding in video recording. I didn't notice this, but then again I didn't fly in high wind where it's known to be more prevalent. It's something to be aware of if you are planning to use the Mavic Air for video tasks.
Build quality
The Mavic Air is noticeably smaller than the Mavic Pro, and smaller again than the Spark when folded. The drone has been compared to the size of a smartphone, but this isn't entirely accurate as it is quite thick and certainly wouldn't fit in the pocket of any pair of pants I own. A better comparison would be a (hefty) paperback novel.

The arms fold neatly away and the body has a solid weight to it as you might expect for the price tag. I really liked that the gimbal cover is one piece, as opposed to the two-piece cover on the Mavic Pro. It's just that little bit faster to take on and off.
Unfortunately I found the cover at the front of the drone a real pain to access. If you're like me and have short fingernails you will probably find it hard to get your card out from the Micro SD card slot too. The good news is there's a fast USB-C connection which means the Micro SD can probably stay in most of the time, but it's worth noting that you can't charge the Mavic Air via the USB like you can with the Spark, so you do lose some portability by having to lug the charging brick and associated cables with you.
In flight
Unlike the Mavic Pro, the Air doesn't get DJI's impressive Ocusync technology, instead relying on an 'enhanced' wifi signal between drone and controller. In practice I found the Mavic Air responsive with minimal latency, although still affected by signal dropouts.

Assessing range is always difficult, and I found the Air's range good but not great. As such you might want to think of DJI's advertised 4km range as a little optimistic. Flight time sits at a solid 21 minutes.

The one real negative of my Mavic Air flight experience was the volume of the rotors. Considering most people's number one issue with drones is the noise they make, the Mavic Air won't do you any favours in changing this perception. I was flying on a calm day with the drone at 120m when my neighbour asked me over the fence if I heard a strange buzzing noise. I sheepishly had to tell her it was a drone hovering above both of our houses. The Air has a more shrill noise than others, and is definitely louder than the current king of quiet flying, the Mavic Pro Platinum.
In summary
The Mavic Air is DJIs most perfectly realised drone yet. It offers a well stabilised camera with excellent stills and video. There's a reason DJI continue to dominate the consumer drone market – they keep one-upping themselves by releasing products that outperform their previous models. But this is a double-edged sword. Rumours are already swirling of a Mavic Pro II. The decision is whether to wait or pull the trigger on the Air. ❂

HANDLING ★ ★ ★
Good. You may find the wifi connection does drop in and out somewhat depending on your location.
FEATURES ★ ★ ★ ★ ★
There's lots to like here. For stills photographers having the ability to shoot a variety of different automated modes is a good bonus.
Image Quality ★ ★ ★ ★
Impressive. The 1/2.3" sensor performs excellently in low light, helped by the fixed f2.8 aperture. 12 megapixels is a little small, but gives you enough room to crop.
Final word
The Mavic Air is an impressive drone for the size. If you've been waiting to buy one, you won't be disappointed with the results this tiny pocket rocket is capable of delivering.
A big thanks to the team at EE Hobbies for loaning us the Mavic Air for review. 
Specs
Sensor: 1 2/3"
Sensor resolution: 12MP
Video Resolutions: 1280 x 720 (720p), 1920 x 1080 (1080p), 2720 x 1530, 3840 x 2160 (2160p)
Take-Off Weight: 430g
Run time: 21 minutes
Price: From $1,295
Sample shots