Review: BenQ SW240 Image-editing monitor
Have you ever spent time in an appliance store and noticed how every television and computer screen offers its own unique interpretation of colour? Accurate colour representation is a challenge for most screen manufacturers but it is also a basic expectation for most professional and keen amateur photographers.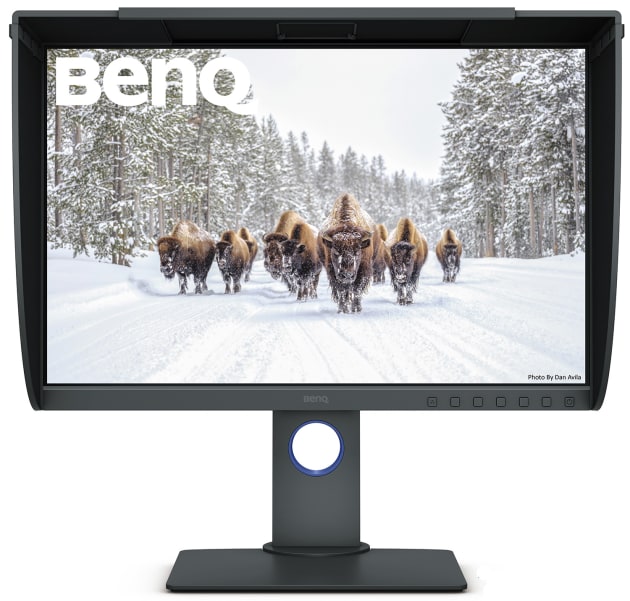 Until recently, most entry-level colour calibrated monitors cost $2,000 or more, but BenQ have now made the technology affordable for everyone with the release of their SW240, a 24-inch, 1920 x 1200 pixel colour calibrated monitor priced at just $699. 

The monitor can accurately represent 99% of Adobe RGB colours (the preferred colour gamut within the photography industry) and to ensure it meets these standards, every SW240 monitor is tested at the factory and delivered with its own detailed calibration report card.
Out of the box
The SW240 has many features common to more expensive monitors, including In Plane Switching (IPS) that ensures accurate colour consistency and brightness from any viewing angle, a high contrast ratio of 1000:1 and a maximum screen brightness of 250cd/m2, making it suitable for use in bright workspaces. 

The 10-bit display can present over a billion colours, and supporting this is a 14-bit, 3D Look Up Table (LUT) that lets you use hardware calibration to adjust the monitor independently of a computer's own colour management system. 

The one feature the SW240 does not have is a built-in self calibration sensor, but the monitor is compatible with most colour calibrators including the i1 Pro, Display Pro and Spyder 4 and 5.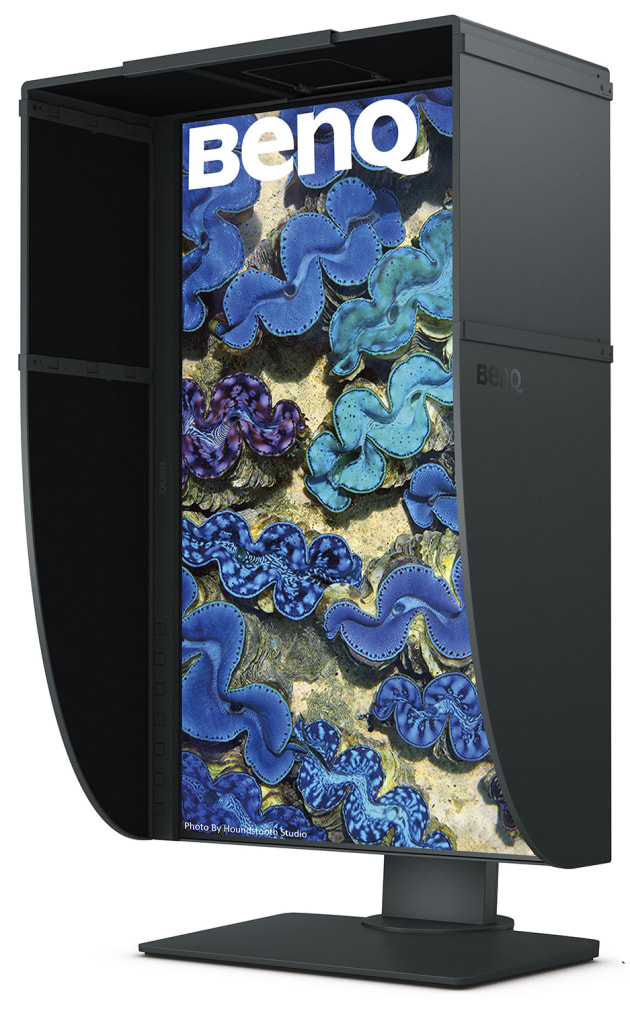 Setup
Setting up the BenQ SW240 is easy; the base unit and column fit together with one winged bolt and the monitor then clicks onto a medium sized attachment plate with one very simple click action. 

Once attached, the monitor can be moved up and down the column by about 14-centimetres to suit your eye level and you can also change the monitor's orientation from landscape to portrait to suit your work needs. The column does not rotate on its base which might frustrate some people, but a handle at the top of the column does make it easy to move the monitor about your desk.

Attaching the cords to the monitor is also simple. On the rear of the monitor are down-facing connections for the power cable, a DVI-I, a DisplayPort and a HDMI input and also a USB hub link; a 5-cm wide hole halfway up the column helps keep the cords tidy and out of sight. 

On the left side of the monitor are two USB connections and an SD slot which are useful for quickly connecting media to your computer.

The SW240 is supplied with a hood for keeping the glare of surrounding lights off the screen. Unlike the monitor, the hood requires some Ikea level assembly skills; it arrives in eight pieces that can be assembled to fit the monitor in either landscape or portrait orientation. 

Most people will use the hood in landscape mode, but if you work a lot with documents or portrait images you might prefer a vertical screen. Changing the hood between the landscape and portrait orientation is a bit fiddly and can take a few minutes.

Once assembled and connected to your computer, the SW240 is ready for use. The power button is located at the lower right of the screen and to its left are six buttons that make it easy to navigate the monitor's menu.
Starting up
The first thing most users will do is use these keys to adjust the monitor's brightness to suit the work environment, and from there most people can start using the monitor straight away. Almost every colour calibrated monitor requires a warm up time when it is turned on to allows the panel and electronics to warm up and stabilise.
BenQ recommends a warm-up time of 30-minutes with the SW240 for colour critical work, but in effect you can reliably use the screen for editing images within 5-minutes of start up. 
Straight out of the box the BenQ SW240 is a better viewing experience for photographers than most cheaper computer and laptop screens. The SW240's screen has consistent colour and brightness from corner to corner and the 5ms response time and 60Hz refresh rate makes it comfortable to work with for reasonable periods of time.
The 7mm bezel around the screen is discreet but most people will prefer to work with the hood to create a more immersive viewing space. I did find myself distracted by bright areas on the screen being reflected off plastic connections in hood, but this is not too noticeable after a while.
It is worth noting that colour calibrated monitors should be adjusted to suit your ambient environment, and to help with this, BenQ have free software called Palette Master Element that allows you to directly calibrate the monitor's hardware. (Melbourne based Image Science have some excellent instructions on their website on how to set up and use Palette Master Element for those who are new to the process).
Accessories
I mentioned the SW240 is easy to attach to its support column, but it is also easy to detach. This, combined with the screen's light weight and low power consumption (19-watts in normal operation) have inspired staff at BenQ Australia to develop an "On-The-Go" package that includes a carry case and compact battery so that the monitor can quite literally be taken anywhere you want to edit a shoot as you work.
The availability and cost of this location kit is yet to be confirmed, but BenQ ambassadors are already testing the concept in frozen landscapes and other exotic landscapes around the world at the moment. So, in buying the SW240 you are not just buying a good monitor for your desk, but potentially a good travel monitor too.
All up the BenQ SW240 is a great monitor at an even better price. Some people might struggle to justify spending $699 on a monitor, but the value of a good screen is not just in the improved viewing experience, but in the improved reliability of your images, both for you and those you share them with. ❂
The wrap-up
Set-up and Handling ★ ★ ★ ★
Small enough for most home offices, yet big enough to be useful. Good stand adjustments although the lack of a rotating base and the complicated hood assembly has cost it a star.
Features ★ ★ ★ ★ 
The SW240 has most of the features found in top end monitors, including an IPS panel, a 14-bit 3D Look Up Table and built-in hardware calibration. About the only thing it lacks is built-in self calibration, but that is not unusual for other monitors in this class.
Image quality ★ ★ ★ ★ ★ 
The image quality is excellent, with crisp accurate colours and smooth consistent tones from corner to corner. This screen lacks the higher resolution of its siblings but it is still very acceptable for high end photo editing.
Value for money ★ ★ ★ ★ ★
At just $699, the BenQ SW240 is the best value-for-money photo editing monitor on the market. It is so affordable that you no longer have an excuse for not getting serious about your colour management. 
Specs
Panel Size: 24 inches
Panel Ratio: 16:10
Native Resolution: 1920 x 1200-pixels at 60Hz
Panel Technology: LED illumination with IPS (In Panel Switching)
Viewing Angle: 178 degrees
Gamut: 99% Adobe RGB, 100% sRGB
Connections In: Power, DVI-I, DisplayPort, HDMI, 1 x USB in.
Other Connections: 2 x USB 3.0 out, SD Slot, 3.5mm stereo headphone jack
Other features supplied: Viewing Hood, built in 14-bit LUT
Supplied Cords: Power, DVI-DL, DisplayPort, USB-3 Upstream
Power requirements: 100-240 volts, 19W (Nominal), 55W (Max) 0.5 Watts (Standby)
Dimensions (HxWxD) w/o base: 356 x 533 x 56.4mm
Net weight w/o stand and base: 4.9kg
Weight with base and hood: 9.5kg
More information: https://www.benq.com/en/monitor/photographer/sw240.html