Opinion: Why mirrorless is more and DSLR's are dead
Sponsored by Panasonic
Like rats from a sinking ship, most photographers - including myself - were quick to abandon film to embrace digital. Eventually, even those who scoffed it'd never be good enough finally accepted reality and never looked back. 
Today, exactly the same story is playing out between DSLRs and mirrorless cameras. Having just made the swap from Canon's top-of-the-line pro DSLR the EOS-1D X Mark II to the Lumix GH5 mirrorless Micro Four Thirds, I'm surprised to find I'm already late to the mirrorless party.
Lumix GH5 vs Canon 1DXII - the size
Who wants to peer through a viewfinder at an electronic screen, and how could such tiny sensors and lenses compete with my monstrous pro DSLR setup which draws such universal nods of respect?
If you were on a tight budget or couldn't handle the weight of a 'real camera' or didn't need the best clarity then sure, but otherwise, a DSLR – ideally full-frame and either Canon or Nikon – was widely considered to be the only serious option. Well, it turns out that times have changed.
While running our Namibia and Botswana photo tour this May 2018, a tech-savvy guest introduced me to the new Panasonic Lumix GH5. Admiring his photos and videos – both in terms of quality and utilization of features unavailable to me – my skepticism faltered.

I suggested a rather unfair comparison: His $4,300 AUD, 1.7 Kg mirrorless setup (using a Panasonic Leica 100-400mm f/4-6.3 lens) Vs my $22,000 AUD, 5.2 Kg behemoth (I was using my Canon EF 200-400mm f/4L with inbuilt 1.4x extender) on the same sleeping lion.

I was reluctant to believe the results (see images below) until I'd studied the raw files on my laptop that evening, but when I did, there was no denying it – his lightweight mirrorless setup was actually capturing more detail – revealing finer whiskers than my DSLR!
There's of course more to a good camera setup than just the ability to zoom in a long way and capture fine details in good light (mind you, for wildlife photography that is a major factor), so I borrowed his setup for a morning. I was so impressed that by the end of the tour, I'd already bought the Lumix GH5 body and the Panasonic Leica telephoto lens online.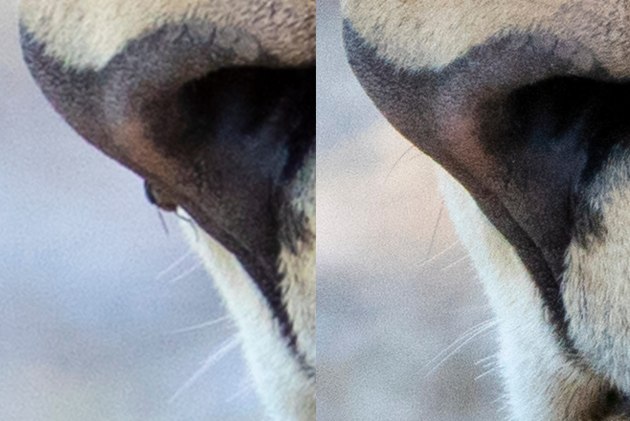 I'd been a dedicated Canon-fan since Australian Geographic bought me my first (film) SLR back in 2002. I was even Canon's Australian Ambassador for five years and my company now owns more than $75,000 AUD worth of Canon equipment, so a change like this was a huge decision: Not only from Canon to Lumix and DSLR to mirrorless but also full-frame to crop-sensor.

To be sure, I decided to bring both systems to compare during my next 6 months of running small-group, luxury photo tours around the world.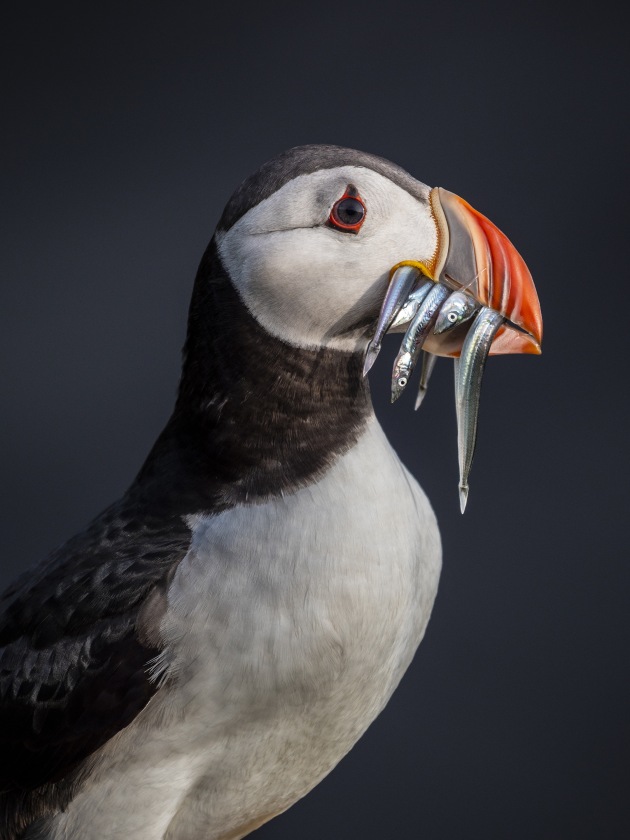 I was so impressed with the Lumix GH5 results in Iceland - capturing my best ever puffin photos and videos (check out this puffin shot for detail!), great landscapes, shooting out of helicopters, birds-in-flight etc – that I didn't even touch my DSLR gear in Greenland (despite lugging 8 kgs of it around in my backpack)! 
Returning home briefly in August, I took the plunge and left my entire DSLR setup behind, padding out my near-empty, delightfully-weightless camera bag with other delicate electronics usually forsaken to check-in luggage: my drone, camera chargers etc - and even a few clothes to fill the gaps.
Alaska allowed me to put the GH5 through its paces with full-on bear-catching-salmon action, boats, hikes, wet weather and so on.

Next, the dust and bumpy roads of Kenya for a month with endless wildlife, doors-off plane flights over lakes of flamingos and so on, then above and underwater in the Galapagos, followed by the low-light challenges of hummingbirds in the cloud forests of the Andes (managing some amazing slow-motion hummingbird footage) and lastly in the humid, dark rainforests of the Amazon last week, really pushing it's ISO and stabilization capabilities.
The conclusion
I'm a convert. I'm selling my DSLR gear and swapping to Mirrorless, and am loving the extra advantages from Micro Four Thirds. The blissful portability and extra zoom reach of a sub-frame sensor coupled with the impressive feature benefits of mirrorless has completely re-energised my photography.

All these advantages would still be hugely persuasive even if offset by a moderate yet acceptable quality loss (compared to the best full-frame, pro DSLR), but unbelievably, in most situations I find my new mirrorless setup is actually allowing me to capture better photos and videos than I could have before, with less effort and so much more freedom
The main advantages of Mirrorless Micro Four Thirds vs Full-frame DSLR
I'll discuss some feature comparisons in the dot points below, but besides the obvious game-changers of the mirrorless body and telephoto lens setup being 1/3rd the weight and just 1/5th the cost of my pro DSLR system, the 3.7 megapixel electronic viewfinder is so fine that it essentially looks optical yet allows previously impossible features including as real-time view of exposure (even a live histogram) so you can get exposure perfect before you shoot - which now makes the DSLR technique of 'estimate exposure compensation, take the shot, check your results and adjust if necessary' seem almost as archaic as waiting to develop your film!

The viewfinder is also a wonderfully glare-free way to review your photos and allows you to film video while keeping the camera up to your eye - so much steadier and easier to see than holding a DSLR at arms length!

The fully-articulated rear LCD screen allows super-convenient shooting from any angle, making it easy to reach up for some extra height, down out of a vehicle for low-angles or tucking the camera through the bushes for previously impossible macro angles all just as fast and natural as if it had been up to my eye.

The sensor is stabilized along with the lenses, allowing steady video and ridiculously long hand-held shutter speeds, and as it doesn't have a mirror, even rapid-fire 12 fps continuous shooting can be totally silent.

Autofocus is plenty fast enough, and being digital, can now also take advantage of object tracking technologies. You can film 4K at 60fps, or 180 fps slow-motion at full 1080 HD (not attainable on my pro DSLR), and the standard Micro Four Thirds lens mount generously shares lenses from Panasonic, Olympus, Sigma and more, and last but not least, the 2x-crop factor from the small sensor turns the 100-400mm lens into a 200-800mm, giving astonishing reach to capture more detail than I've been able to before.
Mirrorless will eventually replace DSLRs, but just like it did with the transition from film, it may take a while for everyone to see the light and let go of the now antiquated notion of needing an optical viewfinder rather than a digital one, and accept the host of benefits that brings.

The decision then will be full-frame or sub-frame mirrorless. The main advantages of crop-sensors are that the bulk, weight and cost of the body (and even more importantly of the lenses required for these smaller sensors) is significantly reduced, while simultaneously multiplying the effective focal length making telephoto lenses seem even longer.

Admittedly simplifying things a little, besides keeping wide-angles wide (but it's way cheaper to by a good extra-wide to still give you a good wide for a crop-sensor than it is to have to buy an extra-long super telephoto for your full-frame to get the same reach as you'd get with a crop sensor!), the only real advantages of full-frame systems are the extra megapixels and their low-light, high-ISO abilities - however these are simply a result of how small (and how noise-free) manufacturers can create the individual sensor pixels, which improves every year.

Eventually we'll see sub-frame sensors boasting excessive megapixels and great ISO abilities – rendering the chunky full-frame systems finally redundant too, along with DSLRs.
For now, it's still a personal decision - how many megapixels and just how much ISO ability do you really need? You might be as surprised as I was to discover that technology has already advanced enough that your requirements can actually be met in a sub-frame setup already.

If you still wish for even more megapixels and/or even better ISO (who doesn't), then you must weigh up the significant sub-frame advantages of smaller, lighter, cheaper and effectively longer lenses against any megapixel and/or ISO shortfall. For me - primarily doing wildlife photography and a whole lot of travel – the answer is now clear.
It's just a matter of time before those nods of respect currently enjoyed by those with the largest, heaviest camera gear will become nods of bemusement: "Check it out - is that a full-frame camera they're using? OMG it's a DSLR!"
Please read my dot-points below for a more detailed analysis and comparison of specific features, but if you'll excuse me, I have to dash off and sell my DSLR gear, while it's still worth something... =P
Panasonic Lumix GH5 vs Canon EOS-1D X Mark II
(Possibly the best micro four thirds mirrorless vs possibly the best full-frame DSLR)
(

Green is good

 in this comparison, and 

Red is bad

)


 
Lumix GH5
CANON EOS-1D X Mark ii
Body approx. price

$2,475 AUD

$7,985 AUD

Body weight (inc battery)

0.75 kg

1.53 kg

Body volume (LxWxH)

1.19 L

2.2 L

Great compatible wildlife lens
Panasonic Leica 100-400mm f/4-6.3 lens (200-800mm f/4-6.3 effective)
Canon EF 200-400mm f/4L (with inbuilt 1.4x extender which can make it a 560mm f/5.6)
Lens Approx. price

$1,855 AUD

$13,888 AUD

Lens weight

0.985 kg

3.62 kg

Lens volume (πr2L)

0.9 L

4.71 L

Lens and body combination

$4,330 AUD, 1.71 kg, 2.09 L

$21,873 AUD, 5.15 kg, 6.91 L

Sensor megapixels

20.3 megapixels, 2x crop

20.2 megapixels, full-frame

Sensor aspect ratio

4:3

3:2

Body volume (LxWxH)
1.19 L
2.2 L
Best video ability
4K 60p
4K 60p
Slowest slow-motion video

180 fps at full HD (1920x1080)

120 fps at full HD (1920x1080)

Continuous-drive

12 fps

14 fps

ISO

ISO 200-25,600

ISO 100-51,200

Shutter speed

60 sec - 1/16000 sec

30 sec - 1/8000 sec

Wi-fi connectivity

yes

no

Bluetooth connectivity

yes

no

Built-in GPS

no

yes

Built-in flash
no
no
Built-in intervalometer (for timelapse)

yes

no

Shutter lag

130 ms with AF, 56ms if pre-focused.

85 ms with AF, 53ms if pre-focused.

Startup time

1.0 sec

0.8 sec

Memory Card Slots

2x SD / SDHC / SDXC

1x CF Card & 1x CFast Card

Battery life

Approx. 410 shots

 (battery 91g, $100)

Approx. 1210 shots

 (battery 190g, $199)
Body material
Magnesium Alloy
Magnesium Alloy
Environmental seals (water & dust resistant)
yes
yes
Touch focus

yes

no

Focus peaking

yes

no

Exposure visualisation in viewfinder

yes

no

Histogram in viewfinder

yes

no

Stabilised sensor

yes

no

Articulated rear LCD screen

yes

no

Custom User Modes

Yes 5

 (but can't save drive-mode)

Yes 3
Dynamic Rage

Approx. 12 stops (?)

Approx. 13.5 stops.
Where the Lumix GH5 

WINS

 over the Canon EOS-1D X Mark II
It's significantly lighter and smaller
The Lumix GH5 body is only ½ the weight and size of the Canon 1D X Mark II. 
When coupled with perhaps the best wildlife lens available for each (Panasonic Leica 100-400mm f/4-6.3 lens Canon EF 200-400mm f/4L extender 1.4x), the combined setup for the Lumix system is then just 1/3rd the weight, and 1/3rd the size of the Canon system.
Not only is my Lumix wildlife setup a whopping 4.8 kgs lighter for me to hand-hold which means fatigue isn't even an issue and I can easily hold up the lens as long as it takes to get the shot, but it also means my camera bag that I perpetually carry around the world with me is blissfully lighter - no more airline carry-on concerns, and plenty of extra space for things like my drone, chargers, flash, filters, etc.
The lighter setup also opens up more creative shooting options like reaching up for unique angles or better backgrounds, and simply means I'll bring my camera with me more often, and enjoy a freer shooting experience. 
It's a fraction of the price
The Lumix GH5 is only about 1/3th the cost of the Canon 1D X Mark II, and when coupled with perhaps the best wildlife lens available for each body (see above), the combined Lumix setup is 1/5th the cost of Canon's - a saving of over $17,500 AUD! 
2x Crop sensor gives more zoom and detail
The 2x crop sensor turns the 400mm lens into an epic, hand-holdable 800mm which gives incredible reach meaning less cropping and more detail for wildlife and much closer-up video.
Wildlife photography particularly is often all about zooming in as much as possible, so this advantage of a crop-sensor for me well outweighs any ISO improvements and extra megapixels that become possible with full-frame sensors (which then have the significant drawback of requiring full-sized, heavy lenses). 
It actually has more megapixels
Well, just: 20.3 vs 20.2 MP, but it's important to note that unlike most full-frame cameras offering huge resolutions, the 1D X mark II was designed with only 20.2 MP to allow each pixel to be relatively large which in turn allows for better ISO performance. So I have been coping with 20 MP for years – it wasn't long ago when 20 MP was considered amazing. While it'd be nice to have more, it really is plenty for most situations. ;-) 
It's so much quieter
With no mirror banging around, mirrorless cameras are way quieter than any DSLR, which is a valid concern for some wildlife situations as well as overall experience enjoyment. The GH5 even has a totally silent mode just using an electronic shutter which is pretty astonishing to use! Note that occasionally on super-fast moving subjects (like a hummingbird wing), this electronic shutter can sometimes result in weird distortions in the image, a bit like a rolling shutter effect. 
The Electronic viewfinder allows exposure (and even histogram) preview
I used to hate electronic viewfinders but with it's 3.68 megapixel OLED display the view looks practically optical, yet has the huge advantage of being able to show you in real-time the actual exposure, complete with optional histogram and/or highlight-alert zebra patterning revealing the parts of the shot that will be blown-out.

Gone is the need to 'check your shots' after you take them to see if you're over or underexposed – I can now get it perfect before I even take my first shot! I even found myself tweaking my settings to maintain perfect exposure while still trained on a bird waiting for it to fly, as the light intensity varied in and out with clouds passing in front of the sun. 

Other benefits of an electronic viewfinder
Using the electronic viewfinder to review your photos and videos provides a wonderfully dark, shaded environment without glare, reflections, suncream smears etc. It's hard to imagine how much better this is until you experience it – as one of my guests said "the colours and details are so clear it almost looks 3D in there!".

By dialing up the exposure when looking through the viewfinder, you can even make the scene appear brighter than real-life, which has allowed me to see subjects hidden in dark shadows.

Electronic viewfinders also allows all kinds of other info and settings to be conveniently displayed inside the viewfinder for your reference – everything from a horizontal level guide, to all the selectable options when you press a button. I love it. 

Excellent for Video
Like the 1D X mark II, the GH5 can film amazing 4K at 60 fps, but is even better at super-slow motion, able to film full HD (1080p) at 180 fps and better yet there is no recording time limit (DSLR's limit to 30min).
With the latest firmware upgrades it can even film 6K with anamorphic lenses, and up to 4096x2160 with normal lenses.
As 4K video doesn't utilize the full sensor size, you can even choose to have the camera crop in giving even further zoom ability which is great. Another huge benefit of filming with a mirrorless is that due to the electronic viewfinder you can keep the camera up to your eye while filming – easy to see and nice and steady, rather than out at arm's length with a DSLR on 'live view'. 
Fully articulated rear LCD screen
This fold-out, rotatable screen makes it easy to shoot unique angles like reaching up high or closer for a better view or background, holding right down low to the ground, or even reaching into a tight space (like a bush) for previously impossible macro shots where there's no room for your head to look through the viewfinder! I love it. 
Stablised sensor
The GH5 sensor has physical stabilization too, giving the huge advantages of stabilisation even for unstablised lenses. Smoother handheld videos, the ability to hand-hold slower shutter speed photos so you don't have to crank your ISO so high etc.
If coupled to a Lumix lens that has in-lens stabilisation too, then both stabilisation systems work together to achieve absolutely uncanny stabilization, well beyond what I've ever experienced - approximately 5 stops of camera shake. 
Dual SD memory card slots
The benefits of having two memory cards in your camera at once are many – being able to record to both simultaneously for redundancy, or to simply have the camera automatically overflow from one into the second without missing a beat.
However, I've never understood why some cameras offer two but differing types of card slots – make up your mind - who wants to have to carry multiple types of cards and card readers and have to use both to get the advantages of dual slots?
I love that the GH5 uses two regular SD card slots (which are SDHC, SDXC compatible) so unlike some proprietary fancy card system, when you really need to borrow or buy a new card, they're easy to find. I use two 64GB, 90MB/sec Sandisk extreme SD cards which seem perfectly fast enough to record 4K or slow-motion video etc. 
Impressive Auto Focus
I was delighted with how fast the camera (and lens) focused, and it has everything from super-fine magnified single point focus to an expandable region, AF-S or customisable AF-C, touch focus, and even a full on object tracking option which even works during video. 
While my hit-rate for pin-sharp shots of birds in flight was admittedly a little less than on my 1D X mark II to start with, with practice (and with a firmware upgrade that includes some AF improvements) worth doing) I'm now very happy with the results, able to snap sharp shots of difficult subjects including fast-flying puffins and hummingbirds even in low light.
As the AF is assessing a digital image now, cool features like object tracking can be super handy in some situations too. 
Focus Peaking
This is a super handy feature that highlights edges of things that are in sharp focus during MF, making manually pulling the focus past some grass onto a semi-obscured subject easy, and also helps smooth manual focus pulling for action-subjects in video (though the GH5 also has great AF tracking in video too). 
User-friendly button layout and customization
I find the various button locations efficient and easy to use, and there's loads of customization available to set the buttons as shortcuts access to your preferred settings. 
Inbuilt intervelometer
Dial in how many photos you want to take, after what initial delay and with whatever gap between each photo you wish. This is super handy for doing timelapes and star trails etc, rather than having to remember to bring and plug-in an external timer. 
Wifi and Bluetooth connectivity
Great for remote control of the camera, as well as transferring photos. 

6K Pre-burst mode
This is a handy feature for essentially shooting a super-rapid 30/sec burst of 6K ie 18 MP (jpg-only) images (or 60/sec at 4K ie 8 MP) to capture a split-second moment impossible to react to yourself.

There are a number of these 6K modes but my favorite is the pre-burst mode where the camera is actually continually buffering 1 second worth of these 18 MP images so that when you see the moment happen, you press the shutter button and the camera will save the preceding 30 photos (covering the 1 second before you pressed the button, which you'd normally have missed!) and the next 30 photos (covering 1 second after you pressed the button)!

This is super cool for capturing things like lightning strikes or the moment when a bird launches into the air etc! 

And so on...
There are heaps of other cool features of the GH5 that I don't have time to exhaustively explore about here, and there's also many that I am still learning about. 
Where the Lumix GH5 

falls a little short

 compared to the Canon EOS-1D X Mark II
Lower maximum ISO
The GH5 has a maximum ISO of 25,600 vs the 1D X Mark II's one stop higher at ISO 51,200. However, as the maximum ISO setting on both bodies are (to be honest) basically unusably noisy, it's more relevant to look at the level of ISO noise at high but hopefully usable levels like ISO 2000 for a more practical comparison, where it turns out the GH5 isn't anything like as bad as you might expect. 
Noise at High ISO
Tiny section of out-of-focus
background enlarged below.
This is perhaps people's main fear about small sensors (such as the Micro Four Third sensors). Basically, the larger each individual pixel is on the sensor, the less susceptible it is to noise, so considering as the two cameras have almost identical number of megapixels (GH5's 20.3 MP vs 20.2 MP) except that in the GH5 they're jammed into a much smaller sensor size means all other things being equal, the GH5 will suffer from worse noise at high ISOs.
However, every year sensor technology is improving resulting in less and less noise at the same ISO levels, and the GH5 is almost 2 years newer than the 1D X mk II.
It's also worth noting that the 1D X Mk II is touted as one of the world's best performing low-light cameras (it was designed to be, that's why they only endowed it with 20 megapixels while other Canon consumer DSLRs were offering upward of 30, even 50 megapixels), so it's a pretty tall order to hope any camera let alone a Micro Four Thirds could stack up against a 1D X mk II in terms of ISO noise. But anyway, here's what I found:
ISO 3200 on Lumix GH5
(Cropped section, shown at 1:1)
ISO 3200 on Canon EOS-1D X Mk ii
(Cropped section, shown at 1:1)
Remember too that removing noise in post-production software such as Adobe Lightroom is getting easier and better every year too: 
GH5 ISO 3200, original
(1:1 crop section)
With noise reduction in Lightroom
(same 1:1 crop section)
So while yes the GH5 does exhibit more noise than the incredible ISO abilities of the 1D X Mark II, I am still more than happy with it and apparently it is exceptionally good compared to other Micro Four Third sensors. Besides, it's currently an unavoidable tradeoff for the advantages of a smaller sensor. 
Shorter (though smaller) battery life
In fact the GH5 battery is rated to take only about 1/3 the number of shots as the 1 D X mark II, however the GH5's batteries are about half the price and weight, so all in all, it's not bad actually.
I usually get a full morning or afternoon's shoot out of a single GH5 battery, and just carry two spares, one of which I've never needed. The 1D X mark II's battery life of around 1,210 photos is legendary though and often lasts for days. For context, a full battery in a Canon 7D mark II DSLR gives about 670 shots. 
Less Dynamic Range
This is the number of 'stops' between when the camera registers pure white from pure black, translating to the ability to capture high-contrast scenes without blowing out the highlights or loosing the shadows.
I haven't tested it but pulling information from online, results vary but it seems the GH5 doesn't do quite as well as the 1DX mark ii in this regard, perhaps 1.5 stops less, but still perfectly reasonable. It is apparently 'excellent' for a Micro Four Thirds sensor, and some reviews claim to measure an impressive 13 stops for the GH5. 
In-camera review of RAW files appear lower resolution
RAW files are not images at all until they have been processed, so raw files actually contain a (usually smaller) jpeg/jpg thumbnail embedded within them which is what the camera shows you when you review the image.
Usually this thumbnail/preview of the raw is not as high a resolution as the actual raw file, and so when reviewing a photo that was shot in raw-only just on the camera, if you zoom right in, it can look low resolution and appear to have disappointing detail – however rest assured that when you load the raw files onto your computer they will be full-resolution and pin-sharp.
I gather that for the GH5, the thumbnail saved inside the raw file is 1920x1440 which (if tou zoom right in) is noticeably less than full-resolution. I hadn't noticed this situation before on my pro Canon cameras as perhaps they save a higher (or even full-res) preview inside the raw files.
Not a big deal, but it did worry me at first when looking at my raw images just on the back of the camera. On the computer they are fine, and if you shoot in jpg (or raw + jpg) then they will display in full-resolution when viewed on camera. 
Can't save 'drive mode' into Custom User Mode
Not a biggy, but when I spin the Mode dial around to my '
Bird in flight
' custom mode (ie C1), I still have to remember to also rotate the drive mode dial to continuous drive.
On the 1D X mark II every setting was just a software-controlled button rather than a multi-position physical switch/dial, so absolutely everything could be saved and recalled via a custom mode. 
Slower shutter lag
If using AF on the GH5 there's a 0.13 second delay between when you press the shutter button and when the image is captured, which although imperceptible is actually almost twice as slow as the 1D X mk II.
It's still plenty fast enough I find and I haven't noticed it except when reading the specifications. If the subject's already pre-focused, the GH5's shutter lag is then similar to the super-fast 1D X mk II. 
Slightly slower (though still plenty) maximum burst rate
12 shots/sec in continuous drive compared to 14 fps. However I find even 10 fps plenty for fast wildlife action, so 12 fps is still awesome and actually blows most other DLSR out of the water, ie Canon 5D Mk 4's 7 fps. If you really want fast shooting, the GH5 can record 6K (18 MP) stills at 30 fps, but only in jpg. 
No inbuilt GPS
Bit of a shame, but I rarely used it on my DSLR anyway as it tended to drain batteries. 
0.2 sec slower to turn on
Which is hardly a noticeable difference - both are acceptably fast.
Acknowledgements
This blog and my decision to swap to Lumix is in no way a dig at Canon who previously supported my photography for many years and to whom I will be forever grateful – my conversion is simply a result of my current assessment of what gear is best for me and for the nature photography I do.

I also should point out that in my final weeks of experimenting with my new Lumix gear, Canon released it's flagship mirrorless camera (the EOS R) which I have not tested, however being full-frame (which allows ISO and megapixel advantages) means it forgoes the 2x crop sensor zoom advantage as well as the associated weight savings possible with Micro Four Third lenses.

Lumix have also announced a full-frame mirrorless 'S' series of cameras for 2019 for those wanting higher resolution and ISO improvements that are not yet able to be condensed into a sub-frame sensor. 

 

About the author: Chris Bray grew up sailing around the world then leading world-first cart-hauling expeditions across the arctic before becoming an award-winning Australian Geographic photographer, Lowepro ambassador and Canon's Australian ambassador for five years. Chris's work has appeared in National Geographic and Discovery Channel along with Australian Geographic, TIME Magazine etc.

He's also an accomplished writer, with feature articles published around the world and even a successful book 'The 1000 Hour Day' (now an award-winning documentary 'The Crossing'), sits on the advisory committee for The Australian Geographic Society and is founder and CEO of Conservation United, crowd-funding the world's critical conservation projects. Chris is also an International Fellow of 'The Explorers Club' and has been chairman of their Australia and New Zealand chapter.

Chris and his wife Jess are also keen high-latitude sailors, recently becoming the first people to sail a junk-rig boat through the Northwest Passage over the arctic, on their little 29-foot wooden sailboat 'Teleport'. Australian Geographic Society's 'Young Adventurer of the Year' in 2004 for a Tasmanian wilderness hike, Chris has also been awarded their 'Spirit of Adventure' medal in 2009. In 2017, Chris and Jess started Swell Lodge on Christmas Island.