I'm back promises to let you shoot digital with old film cameras
Another week, another crazy kickstarter.
I'm Back is a new device that promises to bring back analog cameras, letting them shoot digitally through an attachment.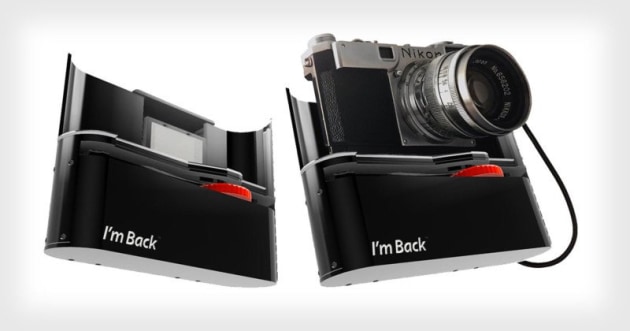 The attachment works by placing a focusing screen where you would normally put a film roll, allowing the image to be created on your newly attached sensor. The image is then saved onto an SD card and can be viewed on the LCD display or an attached smartphone.
The device shoots UHD video (2880px x 2160px) at 24 fps, and 1080p video at 60 fps.
The device can adapt to a number of compatible cameras, including the Nikon F series, Minolta Maxxum 7000, Olympus om10, Pentax cameras, and Praktica B200.
More will, in theory at least, work with the device. If your camera has a tripod hole, a Bulb setting, Sync Flash compatibility, and the ability to continue functioning with the back door open, it should work.
The project already has a working prototype with an 8-megapixel sensor, with and funds being raised now on Kickstarter. The creator has said that if the project reaches its €85,000 ($125,000 AUD) target, they will upgrade the sensor inside to 16-megapixels.
Here's a 3d walkaround of the device:
Here's some images shot with I'm back, on a Nikon F & 50mm f/1.2.
Nikon famously had a patent for a digital back for film cameras, so the idea isn't entirely new - but we still think this new attachment is definitely an acquired taste.
I'm Back is available in exchange for a $207 ($263 AUD) contribution on Kickstarter and is expected to ship in April or May 2018.