Fujifilm announces sub-$10,000 price tag for medium-format GFX 50S
Fujifilm has revealed Australian prices and release dates for its new medium-format camera and lenses.
Fujifilm has officially launched its new medium-format GFX camera system. Following its preliminary announcement at Photokina in September, today's launch saw the company reveal the camera's full list of specifications along with local pricing and an expected late February release date.
The first camera body in the system, the mirrorless GFX 50S is built around a new 51.4-megapixel sensor measuring 43.8 x 32.9mm, 70% larger by area than standard full-frame (36 x 24mm) DSLR sensors.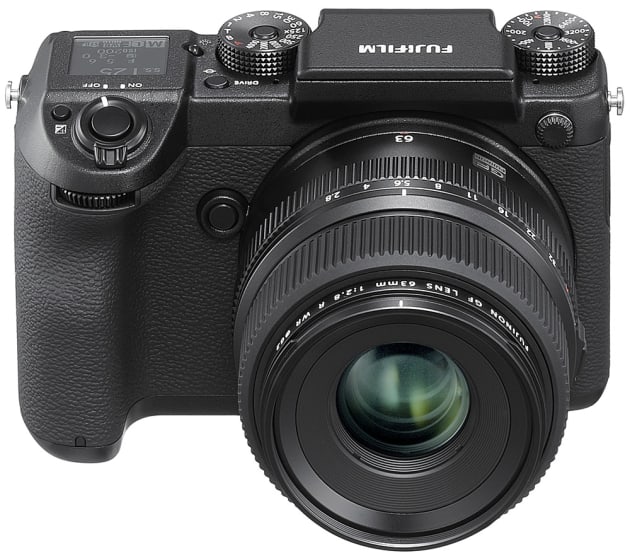 The camera will debut with three Fujinon GF lenses covering standard, wide-standard zoom and portrait focal lengths: 63mm F2.8 R (equivalent to 50mm in the 35mm format); 32-64mm F4 (25-51mm equivalent); 120mm F4 Macro (95mm equivalent).
Another three lenses are expected to be released in the next six months including a 110mm F2 R LM (87mm equivalent); 23mm F4 (18mm equivalent); and 45mm F2.8 R (35mm equivalent).
Each of the new lenses includes a dedicated aperture ring, and a new C (Command) position on the ring to allow aperture adjustments using the command dial on the camera body. Like the camera body, the lenses are dust and weather resistant and tested to operate at temperatures as low as -10°C.

The camera features a 117-point contrast autofocus system, with selectable focus points set via a joystick on the back of the camera or via the touchscreen, 3.2-inch, 3.69-million-dot monitor. The GFX 50S ships with an electronic viewfinder, though users have the option to detach the EVF and shoot with an external monitor or Live View. An optional adapter makes it possible to tilt the EVF to a maximum angle of 90° when shooting horizontally and ±45° when shooting vertically. An optional vertical battery grip is also available.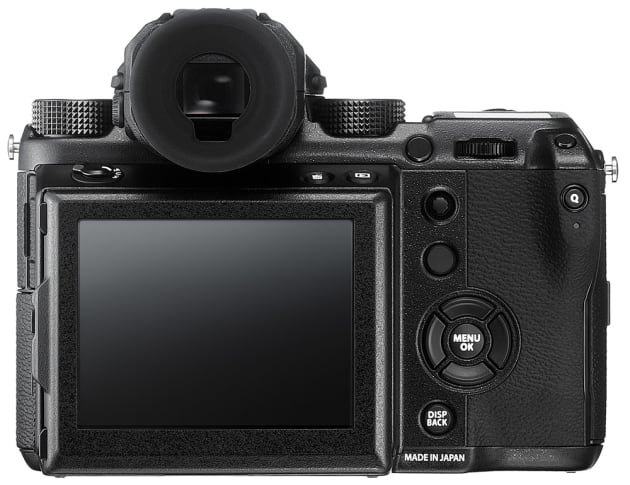 Despite the larger sensor, the GFX-50S weighs 930g with the optional viewfinder and 825g without. To put that in perspective, the GFX-50S is lighter than some full-frame DSLRs including the Canon EOS 1DX Mark II (1530g), Nikon D5 (1405g) and Pentax K-1 (1010g).
The camera uses the same image processor as the Fujifilm X-Pro2 and X-T2 and offers Full HD video recording at 30p.
The GFX 50S will be available in Australia in late February with a retail price of $9999 (body only). The three lenses – the 63mm F2.8 R, 32-64mm F4 and 120mm F4 Macro – will retail for $2399, $3499 and $4199 respectively.

SPECS: FUJIFILM GFX 50S
Effective pixels: 51.4 megapixels
Sensor size: 43.8mm x 32.9mm
Lens mount: Fujifilm G mount
Sensitivity: 100-12,800 ISO (extendable to 50-102,400)
Viewfinder: 3.69 millions dots OLED, 100% coverage, diopter, built-in eye sensor
LCD monitor: 3.2 inch, 4:3, 2,360,000-dot, tilting, touchscreen
Movie recording: 1920x1080, 29.97p / 25p / 24p / 23.98p (36Mbps up to
approximately 30 min)
AF system: Contrast AF, 117 AF points
Max shutter speed: 1/4000s (1/16,000s with electronic shutter)
Sync speed: 1/125s
Sensor cleaning: Ultrasonic vibration
Storage media: SD/SDHC/ SDXC Card/UHS-I /UHS-II
Size: 147.5mm x 94.2mm x 91.4mm (W x H x D)
Weight: 825g with battery and memory card, 920g with battery, memory card and EVF